Keeping Faith wins big at Bafta Cymru awards in Cardiff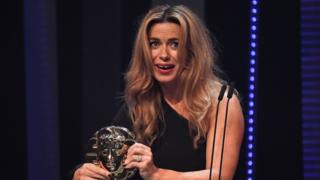 Hit drama Keeping Faith has won three categories at the Bafta Cymru Awards 2018.
Eve Myles won the best actress award for her role as Faith Howells in the drama, while Jack Rowan was named best actor in Channel 4's Born to Kill.
The award winners were announced at a ceremony hosted by BBC radio presenter Huw Stephens at St David's Hall, Cardiff, on Sunday evening.
Broadcaster Mavis Nicholson received the award for outstanding contribution.
The awards, in their 27th year, recognise Welsh talent across film, games and television production.
Keeping Faith, produced by Cardiff-based Vox Pictures, was first broadcast in Welsh with the title Un Bore Mercher on S4C and in English on BBC Wales. It has become the broadcaster's most successful non-network drama in more than 20 years.
Born to Kill, which was filmed in Cardiff, and Keeping Faith/Un Bore Mercher, both received six nominations.
Also for Keeping Faith/Un Bore Mercher, Matthew Hall was named best writer and Grammy Award-winning songwriter Amy Wadge and Laurence Love Greed won the original music award.
Richard and Jaco: Life with Autism won two awards overall as it was named best single documentary and Laura Martin-Robinson and Claire Hill won best director.
And Bang, which was named best television drama, also won an award for its editing by Dafydd Hunt.
Wales rugby legend Gareth 'Alfie' Thomas won the first prize of the night, in the presenter category, for his BBC documentary which looked at homophobic chanting in football.
'Powerful reaction'
"The reaction to the programme has been one of power. I'm still taken aback winning the BAFTA Cymru for it," said Thomas, who was up against Charlotte Church and Rhod Gilbert, told BBC Wales.
"Making this programme we had a lot of doors shut in our faces when reaching out to clubs, but for people who live this reality every day, it gives them strength as fear is worse than reality."
BBC Wales' Week in Week Out saw off competition from S4C's Newyddion 9 and BBC's Wales Investigates to win the prize for news and current affairs.
The Bafta Cymru website has details of all award winners.