'Wylfa supply chain jobs could drain away to England'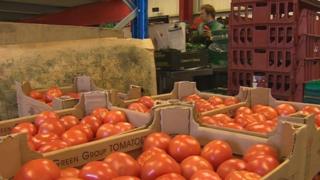 Jobs created by a £12bn nuclear power plant could be lost to England because of a lack of business premises, according to a property expert.
The Wylfa Newydd plant would employ around 9,000 people, and require a variety of suppliers, such as builders and caterers.
Anglesey council said it was working to provide more business properties.
But Wylfa Newydd still needs planning permission and marine licences to go ahead.
It is hoped that the Wylfa Newydd development could have a similar impact on the growth of local companies and create jobs, like Tata in Port Talbot and Airbus in Broughton.
The nuclear plant is negotiating with the UK government on funding and taxpayers are expected to have a significant stake in this development.
Legacy
Chris Sutton, a director of the property agency JLL and a former chair of CBI Wales, said councils and the Welsh Government had to make plans on land and building works to ensure there was a legacy from the Wylfa Newydd investment.
He added the legacy should not just be for Anglesey, but across north-west Wales as well.
"If we don't do that, then what we could find is that investment and those jobs actually go down the A55 to the Manchester-Liverpool area," Mr Sutton said.
He argued there was a shortage of office space, meeting rooms and warehouses in Anglesey and Gwynedd.
"We need to create a package of 'grade A' employment buildings - which are suitable for the supply chain companies coming in there," he told BBC Wales.
A potential winner from the new nuclear plant would be the food sector.
Gethin Dwyfor, managing director of a family business Ffrwythau D.J. Fruits, said he had been trying to expand for a year but could not find a property big enough.
He has been running his business in Porthmadog since 1980 and employs 20 people.
"We need more infrastructure in terms of buildings in the area. It's very difficult to find anything, small or large," he said.
Councillor Carwyn Jones, who is responsible for major projects and economic development at Anglesey council, says they are working hard to tackle the problem.
He said there will be a new £12m link road in Llangefni, five new business units opening in the town and plans to build 10 others in Holyhead.
"We're doing a lot of work on this to make sure the people of Anglesey and the [north west of Wales] capitalise on this," he added.
The Economy Secretary Ken Skates said they had identified a "shortage of units" and have entered into a joint venture with Anglesey council on the new Holyhead properties and were supporting the development of industrial premises in Llangefni.
"But we want to set the bar as high as possible when it comes to the development of Wylfa power station and make sure that development leads to long-term employment opportunities for the people of the island and the people of north Wales," he said.
Horizon Nuclear Power, the company behind Wylfa Newydd, also told BBC Wales it was committed to building a supply chain on the island and across the "north Wales arc".
UK government spokesman said: "From the announcement of a nuclear sector deal, to the kick-starting of the negotiations with Hitachi for new nuclear on Anglesey, the actions the UK government is taking are set to support a long-term pipeline for new nuclear projects, and places Wales at the heart of a UK arc of the nuclear industry.
"These measures are also highlighting the attractiveness of Wales as a place to do business and invest."