Firms pleads guilty over Pembroke oil refinery deaths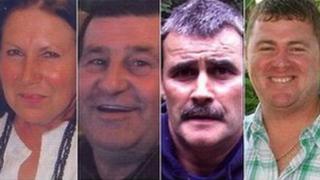 Two companies have pleaded guilty to health and safety charges after an explosion at an oil refinery in which four people were killed.
Dennis Riley, 52, Robert Broome, 48, Andrew Jenkins, 33, and Julie Jones, 54, died in June 2011 when a storage tank exploded at the Pembroke refinery.
Valero Energy UK Ltd and B&A Contracts pleaded guilty at Haverfordwest Magistrates' Court.
They are due to be sentenced at Swansea Crown Court on 2 November.
The refinery was owned by Chevron at the time of the incident, but has since been bought by Valero.
Another employee, Andrew Phillips, was left with serious life-changing injuries after the blast.
James Bennett, prosecutor for the Health and Safety Executive (HSE), told the court B&A Contracts had been contracted to carry out the emptying of the storage tank as part of routine maintenance work when the atmosphere inside the tank ignited.
Valero Energy UK Ltd and B&A Contracts were both charged with two counts of failing to ensure the health and safety of employees and non-employees from the risks arising from preparation work carried out in flammable atmosphere within the storage tank.
Family members of the four who died were present at court, but declined to give any interviews or reaction to the guilty pleas.
District Judge Christopher James said the nature and seriousness of the charges and consequences of those offences meant the case would now have to be dealt with at the crown court.