Sandbags a 'forlorn hope' to stop Gwydir Castle floods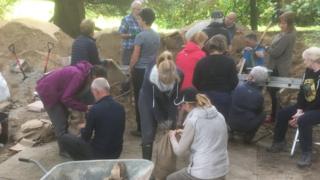 Volunteers have been helping the owners of one of Wales' finest Tudor homes to build a 300m (984ft) sandbag defence to help prevent further flood damage.
Peter Welford and his wife Judy Corbett have spent nearly 25 years restoring the Grade I listed 16th Century Gwydir Castle, near Llanrwst in the Conwy Valley.
He said the action was a "forlorn hope" and accused officials of not helping.
Natural Resources Wales said the work needed a permit but it wanted to help.
The couple believe nearby flood defence work has made the property more liable to flooding but NRW denied its scheme had put the castle at greater risk.
About 20 volunteers have helped the couple to construct a sandbag wall in a bid to limit how much water floods into the garden. In the past flood water has reached a depth of 1.8m (6ft) in the grounds.
Mr Welford said: "We have to do something. The gardens are being destroyed. There are trees which are dying around us.
"And the cellars of the house are being flooded repeatedly and it's leading to structural damage."
Mr Welford said the grounds, which flooded during bad weather in September, had been ignored by officials, despite extensive work in Conwy Valley on a flood alleviation programme.
"We're getting no help from anyone," he added.
Janet Blaszkiewicz, from nearby Trefriw, has been helping to fill sandbags and said: "It's important that somebody gets behind Gwydir Castle because they don't get an awful lot of help and we get such terrible flooding pretty much every year."
NRW said the work needed a permit to be carried out.
But it has insisted it wanted to work with the owners of Gwydir, although it said it had no plans to build new flood defences.
NRW flood risk manager Keith Ivens said: "Our earlier impartial economic assessment concluded that we couldn't fund any further work through NRW flood programme, as our flood alleviation schemes are prioritised by risk-to-life."
Ms Corbett said she and her husband would carry on with the sandbag wall and would seek permission for the work retrospectively.
She said she was concerned the building and grounds could be damaged permanently, adding: "I don't know what the future holds for Gwydir."