What links Geraint Thomas, Empire State Building and Mona Lisa?
Geraint Thomas is still looking for his Tour de France winner's trophy after it was stolen from a cycle show.
Police are investigating after the Cardiff cyclist's Coupe Omnisports was taken after it was loaned to The Cycle Show in Birmingham.
Here we look at five other famous things that have been stolen.
The World Cup trophy
Geraint clearly needs a helping of Pickles, the top dog that helped find England's World Cup trophy.
One of the World Cup's most iconic moments was when Bobby Moore lifted the Jules Rimet trophy on home soil as England beat West Germany at Wembley in 1966. You know, when football 'Came Home'.
But it could have been very different if Pickles the pooch hadn't saved the Football Association's blushes.
The trophy was on display at a stamp exhibition in London but it was pinched from its case when the security guards were on a break.
While panic ensued, the clever collie showed security guards were barking up the wrong tree as Pickles sniffed out the absent award under a bush while on a walk with his owner Dave Corbett a week later.
International stardom and all the dog biscuits he could eat followed for Pickles, while his owner bought a house with his reward money. Good boy, Pickles.
The Empire State Building
What? How can someone steal the world's most famous skyscraper?
Well. obviously you can't stick a 102-story, 1,454 ft (443m) building in your back pocket or holdall - but you can steal it if you have a, ahem, Empire State of Mind.
Described as one of the biggest heists in American history, the Empire State Building was reportedly stolen in 2008 by a New York City newspaper in less than 90 minutes.
The story goes, the New York Daily News drew up fake documents, created a bogus notary stamp and filed paperwork with the city and successfully took ownership of the property that was then worth about $2bn (about £1.5bn).
The office of the city register, upon receipt of the phony documents prepared by the newspaper, transferred ownership of the building from Empire State Land Associates to Nelots Properties, LLC. Nelots was 'stolen' spelt backwards.
To further enhance the absurdity of the heist, included on the bogus paperwork were original "King Kong" star Fay Wray as witness and Willie Sutton, the notorious bank robber, as the notary.
Nearly 24 hours after the fake deed was filed, the newspaper returned the building to its rightful owners.
Mona Lisa
It is argued that the theft of the world's most famous painting from a Paris museum is the reason behind its iconic status.
The Mona Lisa is the jewel in the Louvre's crown, helping it attract almost 10m visitors a year and has been immortalised in Dan Brown's bestselling novel The Da Vinci Code.
Her smile, the mystery surrounding her identity and the fact she was painted by Renaissance royalty Leonardo da Vinci is a reason behind her popularity
But some say her disappearance in a burglary more than 100 years ago really captured the public imagination.
It took a well-publicised two-year police manhunt to find Italian handyman Vincenzo Peruggia after he stole the Mona Lisa in 1911 - and critics argue that interest established her place as the world's favourite painting.
Well, they do say absence makes the heart grow fonder!
Three Olympic golds
He was Britain's most successful Olympic equestrian rider but for a few anxious days his golds had gone.
Richard Meade, who became the first British rider to win an individual Olympic title, had given his three treasured gold medals to the Welsh Sports Hall of Fame to show off at an exhibition in Cardiff.
Problem was, they were pinched from the boot of Lynn Davies' car - another Welsh sporting legend.
Lynn 'the Leap', himself an acclaimed Olympic long-jump champion in Tokyo 1964, was devastated.
No-one was more relieved than Davies when the golds were found down a drain under a Cardiff bridge.
Needless to say, Lynn jumped for joy...
Dorothy from The Wizard of Oz's slippers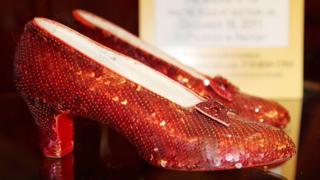 A pair of ruby slippers worn by Judy Garland in The Wizard of Oz were found last month 13 years after being stolen.
They had been taken from a Minnesota museum in 2005, when someone broke in through a window late at night.
An anonymous donor once offered a $1m (£775,000) reward for the stolen pair's whereabouts and the thief's name.
But as the slippers, insured for $1m, are among the most valued props in movie history, the FBI were involved!
No details have been given about where or how they were found - but investigators can now put their feet up.