Litter enforcement: Kingdom given notice by Wrexham council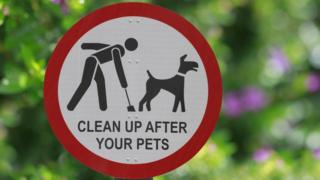 A controversial litter enforcement firm has been told by Wrexham council that its contract will end early.
It followed the revelation that not a single fine was issued by Kingdom Services in August and September this year.
Its arrangement will end on 28 December - rather than in May next year. The firm has been asked to comment.
The council warned it meant limited litter enforcement would be carried out until new arrangements were in place.
Wrexham's head environmental officer, Lawrence Isted, said Kingdom had acknowledged receipt of the termination notice and that new enforcement activity had already stopped.
Council officials said they were examining sharing the service with the neighbouring Flintshire authority, according to the Local Democracy Reporting Service.
However, the council's executive board was also told that while the Kingdom Service contract came at no cost to the authority, any replacement service could "place a pressure on already stretched departmental and corporate budgets".
Complaints about Kingdom Services' approach to the £75 litter fines led to a public protest in the town in September.
A report to the council also said that while there had been a crackdown on littering in the past, Kingdom had failed to tackle dog fouling.
The cross-party committee found that only 39 fines were handed out for fouling between November 2017 and May 2018, compared to 2,267 for littering.
Plaid Cymru councillor Marc Jones said the decision was "long overdue".
"Kingdom did not ensure our streets were cleaner - they did not tackle dog fouling or flytipping," he said.
Kingdom Services has had contracts with eight Welsh councils since 2013, but one deal - with Gwynedd - lasted less than 24 hours.
The company has also been dropped from or declined to renew contracts with Anglesey, Conwy, Denbighshire, Flintshire and Torfaen.
Blaenau Gwent council said Kingdom was still operating in the county as the authority considered its options for future service provision.