Police officer saves life with belt and spoon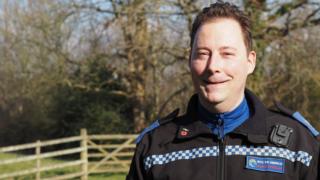 A Dyfed Powys police officer was able to save a man's life using just a belt and a spoon.
PSCO Matthew Kieboom, was on patrol in Cardigan when he found a man with cuts to his hand and forearm, and an arterial bleed after smashing glass.
Using his belt and a spoon from a nearby house, he made an improvised tourniquet to stop the bleeding.
"Because we were so close and the tourniquet was applied so quickly, the casualty stayed alive," he said.
PSCO Kieboom now wants other officers and staff to take note of a new catastrophic bleeding course being rolled out.
The catastrophic bleeding training is an add-on to the yearly first aid refresher, in which staff are taught how to create and use an improvised tourniquet.
They are also shown how to use a haemostatic dressing which is packed into a wound and reacts with blood to stop the bleeding.
"Despite excellent direct pressure being applied to the wounds by a member of public, the only reason the bleeding came under control was because an improvised tourniquet was applied and the pressure was maintained," he said.
"I cannot stress enough how effective the tourniquet can be - even a Blue Peter version - with what you have to hand or nearby. Think pens, ties, batons, slings even torches and the plastic tube for a breathalyser can be used in making an improvised tourniquet.
"The wounds were so serious that the casualty was rushed straight into life-saving surgery on arrival at hospital. I have since been to see how the casualty is doing and they are making a full recovery."