Villagers' 'landmark' legal bid to save Cymer Afan school
"It's the heart of all the villages, something central for us all."
Beth Lewis is part of a campaign by one Welsh community that is so against its school closing, members are planning a legal case to save it.
Cymer Afan Comprehensive, in Cymmer, is set to close at the end of the current school year and pupils will travel 40 minutes to a school near Port Talbot.
But lawyers plan a challenge they say could be the first testing new laws aimed at protecting future generations.
The 229-pupil school in the Upper Afan Valley is due to shut after councillors passed the decision as part of their strategic schools improvement programme.
Neath Port Talbot council said it is "100% confident" of its consultation in the face of any legal challenges about Cymer Afan's planned closure.
But Ms Lewis, a former pupil who sends her 12-year-old daughter to Cymer Afan, said: "I chose to live in this valley to give my children the life in the valley.
"People choose to live here to go to these schools, not to travel up and down the valley roads."
Ms Lewis, who lives in nearby Glyncorrwg, added: "It makes me feel out of control of my own child's future and her education."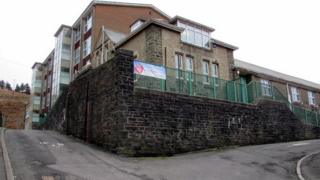 Pupils have been told they must transfer to a new "super school" at Ysgol Cwm Brombil, in Margam.
But amid huge opposition to the closure of the school, many parents say they are considering other options, including home schooling or sending their children to a school over the border in neighbouring Bridgend county.
A judicial review over the decision, focusing on issues of equality and the Wellbeing and Future Generations Act, is currently being prepared.
"It's a death sentence for the community, is what I'm concerned about," said lawyer Michael Imperato, a partner at Watkins Gunn, who is representing members of an action group against the closure.
"If you're a rural or semi-rural community and your comprehensive school is taken away, that can rip the heart out of the community."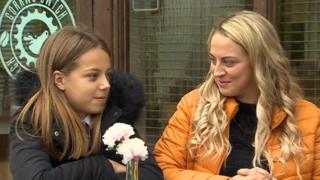 He said the legal challenge would focus on the potential sustainability of the community if the comprehensive school closes.
"My concern is just like many years ago when valley communities had mines taken away and people were economically deprived then and voted with their feet, will there not be the same educational deprivation for these communities, and that will affect their sustainability?"
It is thought it could be the first time the 2015 act - placing a legal duty on public bodies to consider the longer-term impact of their decision making - will be tested in court.
Cymer Afan comprehensive, which employs 23 full-time teaching staff and 39 support staff, is the biggest employer in the Upper Afan Valley and it is feared that many will lose their jobs when the school closes.
The National Education Union(NEU) claims the council did not adequately consult on its plans and failed to safeguard the jobs of Cymer Afan staff in their original plans for the £30m, 1,200-pupil Ysgol Cwm Brombil, which opens in November.
"There are some significant concerns about that whole process," said David Evans, Wales secretary of the NEU.
Neath Port Talbot council said it had consulted more widely on Cymer Afan's closure than any other school closure proposals in recent history and leader Rob Jones was "100% confident" about the robust nature of the council's consultation process.
Councillor Jones said the closure was based "purely on the education the children receive" and concerns they could not benefit from the new curriculum if the school remained open.
You can hear more on this story on Eye on Wales on BBC Radio Wales on Wednesday evening and on the BBC iPlayer.