Concerns over single-driver bin lorry plans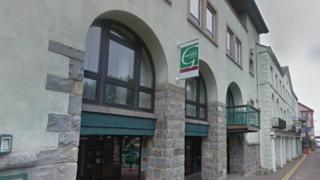 Bin lorries could soon be operated by just one person in one of Wales' largest counties.
The fear has been raised after Gwynedd officials unveiled plans to move refuse staff to a five-day working week.
But refuse collectors have hit out, claiming that changes could result in as many 17 job losses and lead to compromised public health and safety.
Gwynedd council said there are already areas in the county where a single member of staff drives and collects.
Concerns were raised at a meeting between collectors and a number of opposition councillors on Monday night.
"It does worry me, absolutely," said Labour councillor for Bethel, Sion Jones. "There are concerns about the difficulty of doing this and the safety of doing that job.
"Bin men or women will have to get out of the cab, attend to the bins and leave the vans idling on the street."
Peter Garlick, independent councillor for Bontnewydd, said: "We all know that there are cuts ahead of us. It is a financial problem but to be honest, finance doesn't override safety."
But Mr Garlick said that safety is not the sole consideration, claiming the changes could "double or triple" collection times.
"While we accept that introducing such a change will have an effect on staff numbers in due course, any reductions in workforce numbers would be on a voluntary basis," a council spokesperson said.
"As part of the current waste collection arrangements, there are areas within the county where staff are responsible for driving the vehicle and collecting waste.
"Similar arrangements are in place in other counties across the country. This arrangements works well in those areas and we do not anticipate that expanding this arrangement would lead to problems."