Emoji texting driver jailed for death crash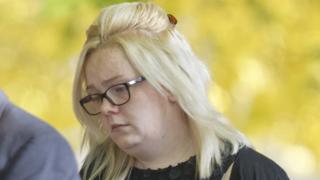 A woman who had been texting emojis on her phone moments before a crash that killed another motorist has been jailed.
Gemma Evans, 23, from Brecon, Powys, was accused of using Facebook and WhatsApp to send messages while driving in the dark at 50mph (80km/h).
Her car hit 58-year-old Diana Price's vehicle. She died at the scene.
Evans was sentenced at Merthyr Tydfil Crown Court to six months and banned from driving for three years.
She had claimed her phone had been in the car's cup holder on the morning of the crash in December 2016 and that she had not used it during her journey.
But police were able to reconstruct her actions before the incident on the A40 at Llanspyddid in Powys, with the help of information from a roadside camera.
The court heard she had been exchanging messages with a friend, making arrangements for a night out, and signed-off with a "cheeky monkey" and "thumbs-up" emojis.
The sentencing hearing on Friday heard Mrs Price was a mother, grandmother and great-grandmother, who had never had an accident in her 40 years of driving.
A jury had earlier cleared Evans of causing death by dangerous driving, and she pleaded guilty to causing death by careless driving.
Jailing her, Judge Patrick Curran QC said: "This is another case highlighting why people should not have a mobile phone switched on at all while in a motor vehicle because it results in these appalling consequences."