Plastic straw use rising in Wales public sector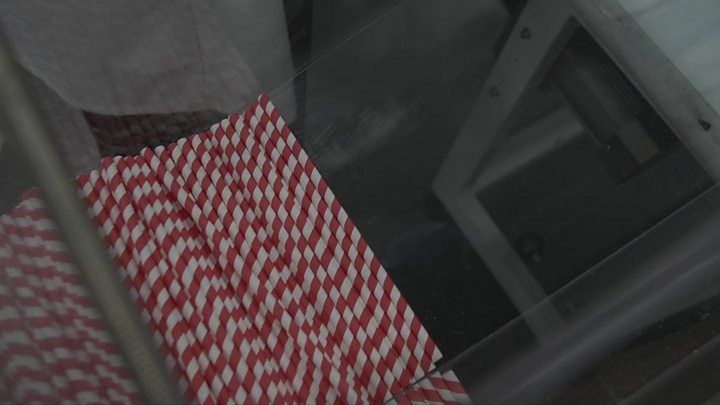 The use of disposable plastic straws by the public sector in Wales has risen significantly over the past five years, new figures have indicated.
BBC Wales asked 57 organisations such as health boards, councils and schools how many individual straws they had purchased.
There was a 57% rise by 22 bodies that provided full data, from 450,400 in 2013/14 and to 705,016 last year.
It comes after pupils sent a petition to the Welsh Assembly seeking a ban.
The Welsh Government has stopped using plastic straws and said it was working with public bodies to reduce their use of single-use plastics.
The demand for paper straws has risen following BBC's Blue Planet II, which highlighted the damage plastic does to marine life.
Primary Ysgol y Wern, in Llanishen, Cardiff has stopped using plastic straws in its milk programme and pupils have sent a petition to the Welsh Assembly calling for a ban at all schools.
Year 6 pupil Owen Williams said: "It's going to be our world later on so when we have kids we want it to be a nice world for them."
The school ban means 285 fewer plastic straws going into the bin every school day.
Deputy head teacher Nia Jones said: "I do feel having submitted this petition to the Welsh Assembly they have shown their determination in making a difference.
"One of the purposes of the new curriculum is that our children become informed ethical citizens that are prepared to show a commitment towards the sustainability of the planet.
Plaid Cymru AM Rhun ap Iorwerth, who sits on the assembly petitions committee, said the pupils' petition had been discussed.
"We've taken action on plastic carrier bags, for example, in introducing that five pence charge. It really did lead to a change in people's habits.
"Let's do the same with plastic straws and other single use plastics, be ground breaking and show others what can be done with real determination."
In April, the UK government proposed a ban on plastic straws and cotton buds in England as part of a bid to cut plastic waste.
The Welsh Government said at the time that it would "welcome collaboration" with the UK on implementing a ban here.
Environment Minister Hannah Blythyn declined to be interviewed but said in a statement that Wales "leads the UK on household recycling".