Greyhound Rescue Wales: Charity says hunting dogs being abandoned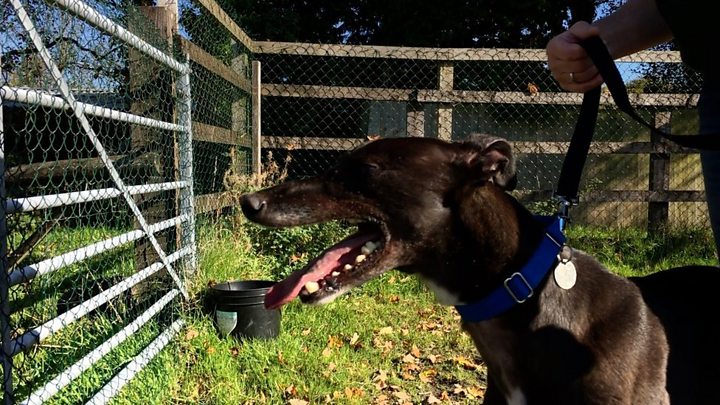 The dumping of former hunting dogs is becoming a major problem, an animal sanctuary has warned as it marks its 25th anniversary.
Greyhound Rescue Wales was founded in reaction to the dog racing business.
But founder Alain Thomas said as traditional greyhound racing wanes in Wales they were increasingly finding abandoned greyhound cross-breeds used for hunting.
He began rescuing dogs in 1993 after an encounter with a stray greyhound.
Mr Thomas said he was driving along with his partner Jan Stanton when they saw a terrier lying in the middle of the road "in a very bad way".
Warning: There is an image of a dead animal below which some people may find distressing
"We almost didn't stop because we thought there was no point," said Mr Thomas, now a self-employed trainer and consultant working in the voluntary sector.
The dog they called Sparky ultimately pulled through and became their "constant companion" but was then killed by a German shepherd dog. Alain said the experience left them "traumatised".
But it was not long before they had another dog to care for after finding a malnourished and homeless greyhound they named Fleet.
But he said efforts to re-home the dog came to nothing: "We were being told that this gentle dog was a nasty dog - it was that particular emotional response which led us to start rescuing greyhounds," he added.
Mr Thomas said the most heartbreaking case they have dealt with was Last Hope, the racing dog which was mutilated and left for dead in 2004 after its owner paid a man £10 to end its life and hide its identity.
"In effect, he drove the dog to a remote mountainside and tried to kill it with a bolt gun and cut its ears off," he said.
"That was the most shocking event I have witnessed in the 25 years of Greyhound Rescue Wales."
Mr Thomas rushed to the scene and took photos of the dead dog, which helped police find and convict the killer and saw a massive public outcry.
Mr Thomas said he had tried to engage with track managers and dog owners for years, but to no avail.
"After Last Hope, within 24 hours, I went around all Welsh tracks with photos and asked 'are you going to sign up now?'," he said.
Under public pressure to do something, the track managers signed a declaration of intent which committed them to better practices.
Another legacy of Last Hope is that Greyhound Rescue Wales will never put a dog down as a result of injuries sustained on the track.
An unlikely endowment
Mr Thomas said a high point in the charity's history was when it was left £500,000 by an elderly woman from London, Lee Frank.
Mr Thomas's sister, Anne, also an animal lover, had become friendly with Ms Frank after seeing her pushing her elderly pet bulldog through the streets of London in a pushchair.
In 1997, Ms Frank told Anne she intended to leave the charity some money in her will. It was only when Ms Franks passed away in 2011 that Mr Thomas realised the scale of the donation.
"I thought in the mid-2000s that the trust was sustainable as it is and 'so my work here is done'," he said.
"All of a sudden, you have to use half a million pounds... I came up with a business plan."
The money has secured the future of the Hillcrest sanctuary in the picturesque Amman Valley, Carmarthenshire, with volunteers now raising money to refurbish and expand the kennels.
"We look after their spiritual, mental and physical health," said sanctuary manager Sandra Wynne.
"We have lovely surroundings, the kennels are nice and spacious, it is nice and quiet, there is a big garden and a massive two-acre field which is fully enclosed.
She added: "We only use positive positive enforcement - there is never a raised hand or raised voice towards them."