Welshman's hopes for blind England Rugby World Cup squad
By Colette Hume
BBC Wales News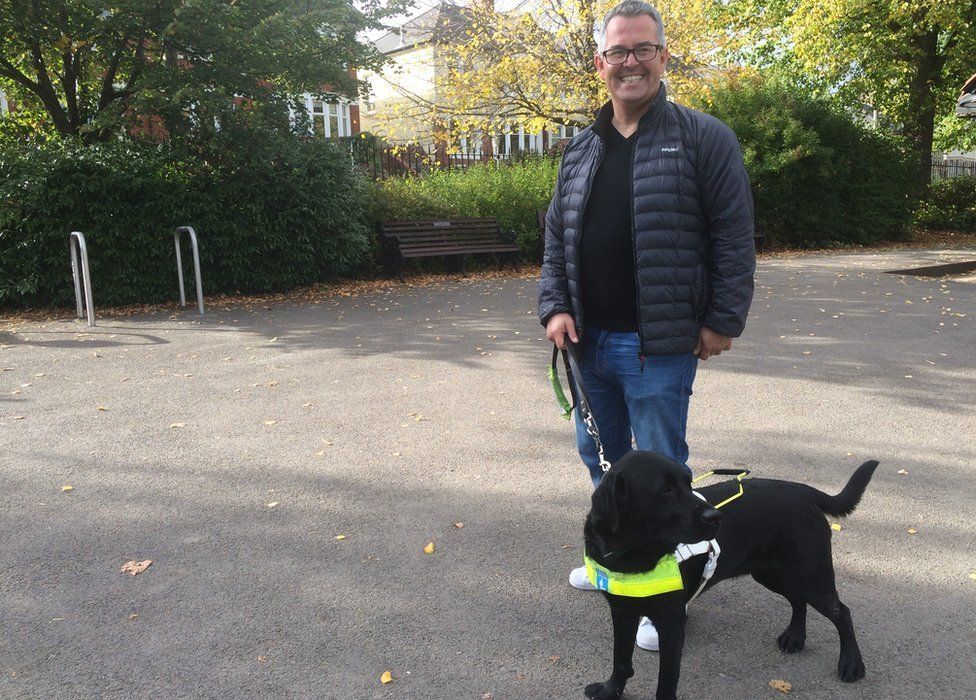 A blind man from Cardiff has been selected for a squad that could go on to play in next year's Rugby World Cup in Japan.
Father-of-two Gareth Davies will be the only Welshman to be included in England's team for blind and visually impaired players.
He has his first training session at Harlequins in west London on Saturday.
Gareth, 44, who has played rugby since childhood, was diagnosed with retinitis pigmentosa in his teens.
Over the last five years, his sight has deteriorated severely. He now has just 10% vision in his left eye and is registered blind.
The scrum half said he was excited to be given a chance to play rugby on a world stage.
The hopefuls who make the final cut for the World Cup will face teams including Japan, New Zealand and, it is hoped, Italy.
"I was born in Wiltshire, but my dad Dwyfor is a Welsh speaker from Ystalyfera and my late mum was from Clydach and I've lived in Wales for more than 20 years," Gareth said.
"My kids Nia, 13, and Lloyd, who is 10, already take the mickey out of me for being born in England, but I think they're really proud of me. I would have loved to play for Wales if they had a team."
Gareth is a stakeholder engagement lead for health with the charity RNIB. He works with the NHS in all four nations of the UK on issues around eye health and fits in training around his job, which involves frequent travel.
He said blind rugby was very similar to the Sevens game and includes scrums, lineouts and conversions. The pitch is 50% smaller, the posts are inflatable and and he says the referee takes a much more active role.
"There's a lot more communication and there are ball bearings in the ball so we can hear it."
Matches are played 14 minutes each way and the first match was showcased in 2016.
Gareth plays his club rugby with the Cardiff Chiefs, a mixed ability rugby team set up with support from the Welsh Rugby Union and Llandaff Rugby club last November.
There are now four mixed ability sides for adults in Wales, with the new Dragons All Stars adding to the established Swansea Gladiators and Llanelli Warriors, and plans for another side to be set up in north Wales.
The WRU said this was very much part of their Disability Rugby Strategy, launched earlier this year with the aim of increasing inclusivity and providing what it describes as "positive rugby experiences" for all.
The WRU's head of rugby participation, Ryan Jones, said: "We know that participation in rugby boosts wellbeing, social integration and physical health.
"We want to give everyone the chance to benefit from being part of the rugby family and that means increasing the amount of quality disability rugby opportunities on offer, but also helping to change perceptions so that our rugby communities are more inclusive to disabled people.
"We want to ensure everyone feels truly engaged in our clubs and has a sense of pride in the contribution they make."
Blind Rugby was set up by a charity called The Change Foundation. In their first international test series in New Zealand in 2017 the UK team notched up a 3-0 series win against the blind and visually impaired Kiwi team.
There are also plans to try to create the first blind Six Nations tournament next year.
Related Internet Links
The BBC is not responsible for the content of external sites.