26 Cwm Taf baby deaths in health board maternity inquiry
Twenty stillbirths and six cases of babies dying shortly after birth are being investigated by a health board.
Cwm Taf Health Board in south Wales confirmed it was looking at 43 cases with "adverse outcomes" over more than two years from the start of 2016.
The health board said it had been "very challenged" to keep staff numbers at the right levels.
But it said it was taking "positive actions" to strengthen the workforce, including recruiting 15 new midwives.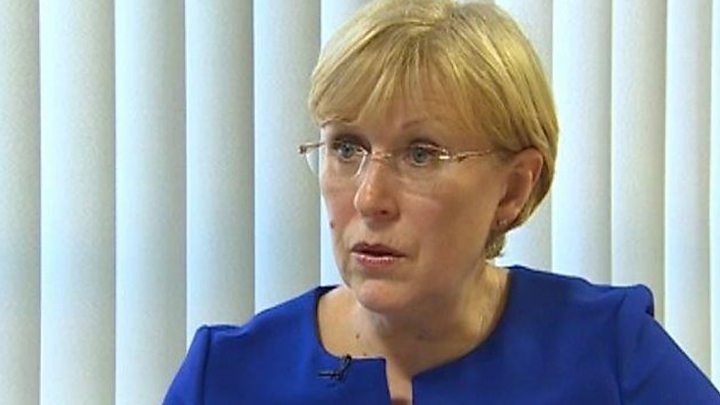 Prof Angela Hopkins, interim director of nursing for Cwm Taf, has said: "We've undertaken a review to look at cases when the outcomes for pregnancies was a very sad stillbirth or complication of the pregnancy such as haemorrhage following birth."
She said in cases where they have identified concerns, the health board has been in touch with the families directly.
You may also be interested in:
"We want to offer families our commitment to providing a safe service going forward," said Prof Hopkins.
"In the cases we're identifying issues, we will be in touch with the families and supporting the family with an apology and the redress system."
The inquiry is covering a period until September 2018 which saw 10,000 births across the region.
The health board covers 300,000 people living in the south Wales valleys, with maternity services at Prince Charles Hospital in Merthyr Tydfil and the Royal Glamorgan Hospital in Llantrisant.
"It's absolutely key we have appropriate staffing levels to ensure our services are safe," added Prof Hopkins.
"We have been very challenged to maintain staffing levels at the optimum level. Some outcomes were not being reported because it wasn't seen at the time an issue to report.
"I'm not saying any of our staff were covering anything up at all. We have excellent staff, they work under tremendous pressure."
Some midwives have been moved to maternity wards in response.
The health board said it was "doing everything we can to increase the staffing we already have available" but the position was described as "extremely challenging".
"We have gone back and looked at each of these cases in more detail to find out if all appropriate actions were taken at the time," said a health board statement.
Analysis from Owain Clarke, BBC Wales health correspondent
Staff shortages are at the heart of this story and the problems only came to light because there were concerns staff weren't reporting or flagging up serious incidents.
The health board insists that it wasn't an attempt to cover anything up, it was just that staff were too busy to do it.
These issues were picked up at a time when the health board is embarking on a big revamp of maternity services across the region.
Royal Glamorgan Hospital will become a midwife-led service and £6m is being spent on an expanded special care baby unit at Prince Charles Hospital, which is becoming the area's specialist neonatal care centre from next March.
These plans were driven by concerns that there were too few staff, spread too thinly, and services weren't as safe as they should be.
And just this week, we know ante-natal classes in the region had to be cancelled as midwives had to be drafted in to help at hospitals
It is consistently argued that current pattern of service isn't the best.
The question expectant mothers will be asking tonight is how safe are the services now?
The review was triggered after the health board noticed a fall in the number of serious untoward incidents (SUI) being reported.
A small number of case reviews are to be finalised and any further information would be "shared in full" with the families concerned.
'Need assurances'
Last week, Cwm Taf chief executive Allison Williams told a health board meeting she was commissioning "a robust review" of SUI reporting over the last three years.
It also involves a "comprehensive refresh" of incident-reporting processes, with training for all relevant staff.
An improvement plan is being drawn up, led by Prof Hopkins for the next six months, with a small panel of experts and support from Welsh Government officials.
The Welsh Government said it was in regular contact with Cwm Taf, the welfare of mothers and babies was paramount and "they rightly need assurances that urgent action is being taken to ensure services are safe".
A spokesman added: "We are currently looking at ways we can provide support to strengthen the health board's maternity service, both in the immediate and longer term.
"The health secretary has spoken with the chair to discuss his concerns and is considering what further action to take."
Helen Rogers, director of the Royal College of Midwives in Wales said: "What is important is that any review is done as quickly as possible for the families and the staff. We will be supporting our members through this process and we will await the results of the review."
The health board said if anyone has any concerns about our service they can contact 08000 328999 between the hours of 8am and 6pm seven days a week. Alternatively you can email CTHB_concerns@wales.nhs.uk anytime.