Cardiff Bus driver quits over 'homophobic remarks by managers'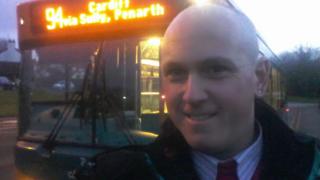 A bus driver has quit over homophobic remarks allegedly made by managers about him and other employees.
Matthew Enos, 35, from Porth, Rhondda Cynon Taff, plans to claim constructive dismissal from Cardiff Bus.
He was given a recording by another driver where officials allegedly made comments referring to "drama queens" and "not having any luck with the gay community".
Cardiff Bus said it was carrying out an internal investigation into the claims.
Mr Enos, who had been with Cardiff Bus since 2010, quit last month after saying he was "gobsmacked and distraught" at the handling of the case.
BBC Wales has heard the recording and although the sound quality is poor, voices can be heard making offensive comments about staff.
A grievance hearing was arranged for Friday, but Mr Enos said he feared the company would only offer mediation, so he resigned on the day.
He had been off sick for more than six weeks since hearing the recording and feared if he returned, he might have to work with the officials in question.
Mr Enos, Unite's LGBT committee member at Cardiff Bus, said: "I cannot return and feel that the company has completely failed to honour the zero tolerance commitment they've stated towards homophobic abuse."
Cardiff Bus said it was committed to equal opportunities and was "strictly opposed to prejudice in all its forms".
The union said the 30-minute recording was made on the phone app of another driver, who called the company while working on 16 August.
It continued recording the conversation because, it is believed, the company phone was not hung up.
Shortly after, the recording was passed to the union and Mr Enos was told about it.
"I'm aware that staff members have been summarily dismissed for offences such as running early or failing to stop at a bus stop," said Mr Enos.
He said the company's approach implied those offences were "far more serious than the homophobic abuse of staff".
Unite said it had raised its concerns several times with Cardiff Bus about the "very offensive and completely unacceptable" comments.