Anglesey Gypsy and traveller site plan approved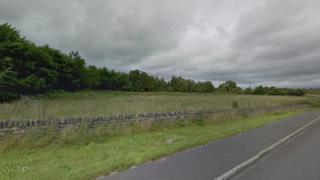 Plans for Anglesey's first Gypsy and traveller site have been approved, just one month after they were turned down.
The 10-berth camp will be developed on farmland between the A5 and A55 at Star near Gaerwen.
In September, Anglesey council's planning committee rejected officers' recommendations and opposed the plans.
The application was reheard on Wednesday, after a "cooling off period" which follows decisions against officers' advice, and approved.
The authority has been looking for two Gypsy and traveller sites since 2016, and land was earmarked for a temporary stopping place in Star and a permanent residential site near Penhesgyn.
There was deadlock in the council chamber, leaving the chair of the committee, councillor Nicola Roberts, to cast the deciding vote, according to the Local Democracy Reporting Service.
However, this was met with outbursts from the public gallery.
Councillor Meirion Jones, who opposed the plan, said: "Local people have said all along that this site isn't fit for anyone to live. Nothing has changed since you turned down the plans last month."
Planning officers argued that "upon balance", there were no planning reasons to turn down the plans - a view shared by councillor Ken Hughes.
He said: "Some councillors are thinking of every excuse under the sun to turn this down, be they planning considerations or not. I can't see any planning reason to turn this down."
According to the council, people residing at the site will be expected to pay rates and rent, with Welsh Government funding being sought to help pay for the development.