Internet trolls urged gay Llandysul minister to kill himself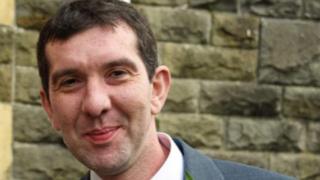 A gay minister has said it is vital people stand up to internet trolls after receiving messages urging him to kill himself.
The Rev Wyn Thomas, a Unitarian church minister in Llandysul, said he had received abusive messages on Facebook.
They called his Ceredigion church one for "sodomites" and encouraged him to take his own life.
Writing on Facebook, Mr Thomas said: "I will never be ashamed of love and will never, ever hide."
Mr Thomas said it was the first time he had received this sort of abuse and he felt he needed to speak out.
Speaking on Radio Cymru's Taro'r Post programme, he said: "Although I am a minister in a fairly conservative area, everybody has been very supportive to me personally."
He said he had challenged the trolls because feeling down or depressed was "something many gay young people feel when growing up" and abusive messages could amplify that feeling.
"I don't want to give them the attention they seek, but on the other hand it's vital that young people in Wales and beyond realise that it's a minority of people that hate not just LGBT people but anyone who is different," he added.
Andrew White, chief executive of Stonewall Cymru, said: "One of every 10 LGBT person in Wales has received this type of message in the last month."
He added: "We should challenge this type of message. If you've witnessed it, you're in a much stronger position than the person who's been targeted. Support people who are being targeted, they are frail which is usually the reason they've been targeted. "