National Grid accused of not caring over Anglesey pylons plan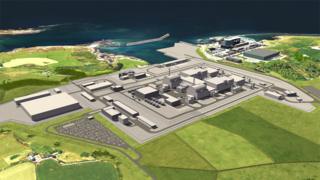 The National Grid has been accused of not caring what Anglesey residents think about its controversial plan to build a second line of pylons across the island.
The pylons would carry power from the proposed £12bn Wylfa Newydd to homes and businesses across the UK.
It has applied to the Planning Inspectorate to build them but Anglesey wants them underground.
The council's deputy leader said opposition was unanimous.
"The Grid simply don't care what we think and are running roughshod on us as an island," Ieuan Williams told a public meeting.
"Can you imagine the National Grid running two rows of overhead pylons on the Isle of Wight or any other island for that matter?
"We will be responding to the Planning Inspectorate and highlighting our concerns over the process and the lack of information provided, especially regarding the proposed tunnel under the Menai Strait."
According to the Grid, "undergrounding" would cost about £1bn compared to £550m for erecting pylons - a cost which would end up being passed onto energy consumers in their monthly bills.
But farmer Wil Edwards, of Rhosgoch, said: "These pylons will effect everyone on Anglesey and we need to pull together as an island and say to the Grid, we don't want them.
"It's all about money. What's a few million to the National Grid? Protecting our island is priceless."
The Anglesey Says No to Pylons group has collected a petition containing more than 13,000 signatures which will be submitted to the Planning Inspectorate to highlight the strength of feeling locally.
But Gareth Williams, the Grid's senior project manager, defended the scheme.
"We've listened to what people have told us and made hundreds of changes - big and small - as we've developed our plans," he said.
"Anglesey and Gwynedd councils agree that we've carried out consultation as we set out in our plans that they helped shape and approve.
"Our proposals are now being reviewed by the independent Planning Inspectorate and they provide a formal process for anyone wishing to give their opinions."
Horizon Nuclear Power submitted its detailed plans for Wylfa Newydd to UK inspectors in June.
If the power station gets approval, construction on the £12bn plant will begin in 2020, with it becoming operational in the mid-2020s - running for about 60 years and generating enough electricity to power five million houses.