Cardiff's House Of Fraser store will not close, says landlord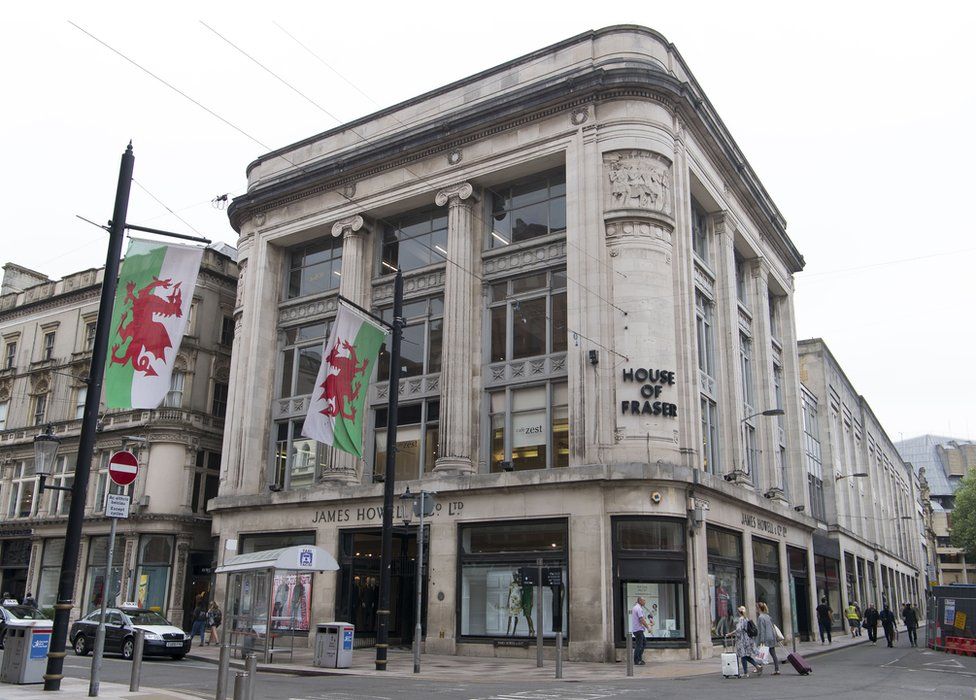 One of Wales' biggest department stores will remain open, the building's landlord has confirmed.
Cardiff's House of Fraser had been earmarked for closure - but a deal has now been struck with the chain's new owner Mike Ashley.
Azeemeh Zaheer, head of Naissance Capital Real Estate, said plans to turn parts of the former Howell's store into a hotel were also still a possibility.
However, she said she does not know how many of its 342 staff will be kept on.
She told BBC Radio Wales: "We have agreed on a licence with the group, which is good because we won't be closing down the store.
"Will all staff keep their jobs? That's less of my call and (an issue) more for the management of the tenant.
"However, the idea that both of our institutions have is: let's figure out a solution to keep the jobs and also looking at saving a real heritage brand of the UK that started a 159 years ago."
The Cardiff store has been in existence since 1869 and was one of the landmark shopping destinations in the city.
Full details of the deal have yet to be made public, but the House of Fraser brand will continue to occupy all of the building - for now at least.
Previously, a number of hotel chains had expressed interest in the city centre site.
Ms Zaheer said her firm was still open to ideas about making the building a "multi-use" site in the future.
"We know that retail is changing," she added. "Do you need 300,000 square foot there? Is that redundant with other retailers (being) in the city centre? Probably.
"Realistically we will look to do something with the site... to make it more of an attraction. We have had a lot of interest in the building.
"The good news is that 'actually we are going to take full 300,000 square foot but we can give you back certain bits in certain stages'.
"We also want to create a multi-use site."
However, while the Cardiff site has been saved from closure - the Cwmbran outlet, which has 96 staff, remains on a list of closures alongside Edinburgh, Hull and Swindon.
He added: "I would like to thank those landlords who have helped us to rescue approximately 3,500 jobs at the stores we have saved to date.
"I am calling on everybody to pull together, including landlords and local authorities in order to help to save as many House of Fraser stores and jobs as possible on the Great British high street."