The Crown promises 'truth and dignity' for Aberfan story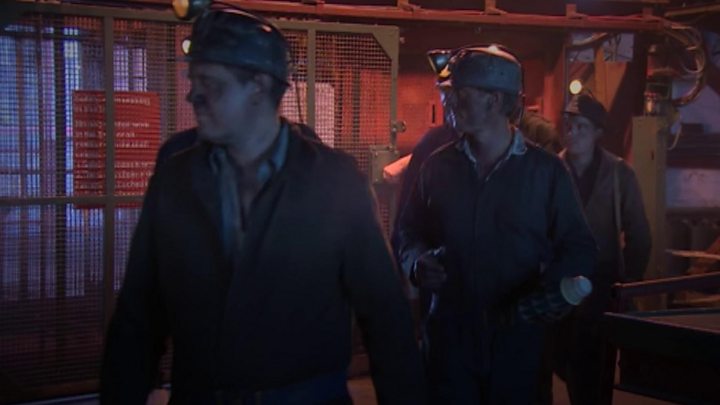 The story of the Aberfan disaster will be told with "truth and dignity" in the new series of The Crown, its director has said.
The 1966 tragedy will feature in an episode of the third series of the Netflix drama to be shown next year.
Olivia Coleman will star as the Queen, after Claire Foy portrayed a younger monarch in the first two series.
Director Benjamin Caron said it was important that the Aberfan disaster was marked in the new series.
The Queen visited Aberfan a week after a colliery tip collapsed, crushing a junior school and claiming the lives of 116 children and 28 adults.
She has returned several times and her close connection prompted Aberfan's inclusion in the drama that charts her reign.
Speaking on set at Big Pit National Coal Museum in Blaenavon, Benjamin Caron said: "Every series of The Crown looks at major political events and moments in history, and this is one of them. Of course we should do this.
"This story in particular affected the whole of Wales, the United Kingdom and the Queen.
"Peter Morgan, the writer and showrunner, and I thought this was a story we wanted to tell. And that we wanted to do that with truth and dignity, and also to make sure that it is never forgotten."
Big Pit is one of a number of locations used to represent key sites connected to the Aberfan disaster.
A school in Cwmaman has been used to represent the Pantglas Junior School in Aberfan, while filming is also taking place in Bettws.
Producers decided against filming in Aberfan itself, but have spoken to local people to ensure the drama treats the community with respect.
They held a meeting in the village in recent weeks and a number of local people have roles as actors and supporting cast in the drama.
"We have been talking to local schools, and we also have some actors who grew up close to Aberfan. They are involved in the show," said Mr Caron.
"Some of the kids who we have been filming with earlier in the week grew up around the area.
"So we have, as much as possible, been trying to involve the local community."
The Crown still has more to film in Wales.
While its Aberfan episode will wrap-up soon, the crew will return to recreate the investiture of the Prince of Wales in Caernarfon.