Wales Air Ambulance saved man twice in three weeks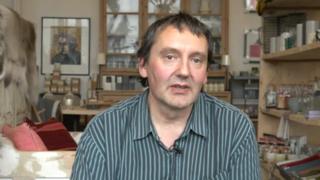 A man who needed an air ambulance twice in three weeks for different emergencies said he owes his life to the service.
Grant Withington, from Llandrindod Wells, Powys, first suffered a hand injury from a chainsaw, then weeks later had a heart attack.
The 53-year-old said he would not be alive if he had travelled by road.
The service has reached 30,000 cases and has thanked those who help to raise £6.5m towards its annual costs.
Furniture maker Mr Withington severely injured his hand while cutting wood with a chainsaw in his garden in June.
He said the journey to specialists at Swansea's Morriston Hospital would have taken up to two hours by road, so doctors called for the air ambulance in Welshpool, which allowed his hand to be saved.
Three weeks later while recovering from reconstructive surgery, he felt unwell and went to his GP, who told him he was having a heart attack.
"The cardiac ward wanted me there within an hour which by road is impossible, so yet again for a second time the air ambulance was called and they got me there in 16 minutes," Mr Withington said.
"Undoubtedly they saved my life - I'll never be able to thank them enough - it's a very sobering experience to think that I might not have been here.
"When you live in a rural area these things are essential, it's critical.
"In the past I've seen the air ambulance on occasion flying overhead, but never for a second did I think I'd end up inside one of them - let along twice in three weeks.
"I'm just eternally grateful to these people - I need both my hands to do my job… and they saved my life with the heart issue. Every day is a blessing."
Operations manager Mark Winter was on board the first Wales Air Ambulance mission back in 2001 when it was simply about getting the patient to hospital but he said now it is about taking the hospital to the most seriously ill patients.
"Ventilators, syringe pumps, monitors and blood, are now all on board which weren't available a few years ago," he said.
"One of the things we talk about in our world is 'unexpected survivors' - those patients who have had emergency front line treatment at the roadside or at the home who otherwise would have to have been taken to hospital, where it might have been too late."
Wales Air Ambulance now has emergency consultant doctors on board helicopters based in Caernarfon, Cardiff, Llanelli and Welshpool and its chief executive said it was the biggest service of its kind in the UK.
Angela Hughes now wants the next challenge to be extending the operating hours from 12 hours daily to 24/7.
"It is busier now but because it's a national service people can see where their money is going and the amounts we raise is phenomenal," she said.
"People know why we're needed - lots of rural activity, seaside, the medical situations too - getting people to where they need to be."