Bargain Hunt: Pulp v Happy Mondays reshot after rule break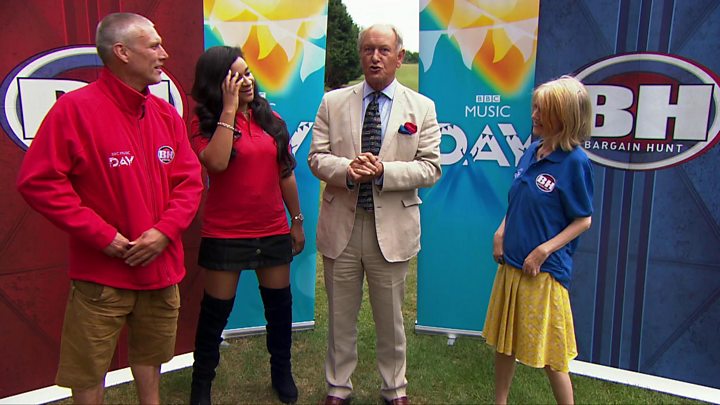 A special edition of Bargain Hunt featuring Happy Mondays and Pulp had to be reshot after one of them was found to have broken the rules.
The two bands went head to head on the show as part of BBC Music Day on Friday.
But the rule break was only discovered after filming had finished which meant that the end of the show needed to be recorded again.
What happened was aired at 12:15 BST on BBC One.
The show saw Pulp front man Jarvis Cocker and the band's keyboard player Candida Doyle go up against Happy Mondays rockers Bez and Rowetta to find hidden gems at an antiques fair in Kent.
And despite all appearing to go well while filming, trouble soon emerged.
The show's rule book does not allow family and friends to take part in the auctions but Bez's girlfriend bid and won his team's two auction items, a mirror and a music turntable, securing them an £8 profit which was enough to give them victory.
Despite losing £95 on their auction items, Cocker's team was given the win when the infringement came to light.
Bez, who handed back the £8 profit, said: "It was a genuine error. My girlfriend thought she was helping out."
The show's executive producer Paul Tucker, whose production team is based in Cardiff, said: "We have rules and regulations on Bargain Hunt and we have to make sure they abide by them.
"It was picked up by a runner and we verified there were clearly misdemeanours going on.
"It was a genuine rule that was broken and we had to reshoot the end."
Mr Tucker added: "They are rock and rollers and they live on the edge as they did in the 80s.
"It's not a surprise but in the end it was quite amusing."