World War One: The Cardiff City player who died two days before Armistice
By Steve Duffy
BBC news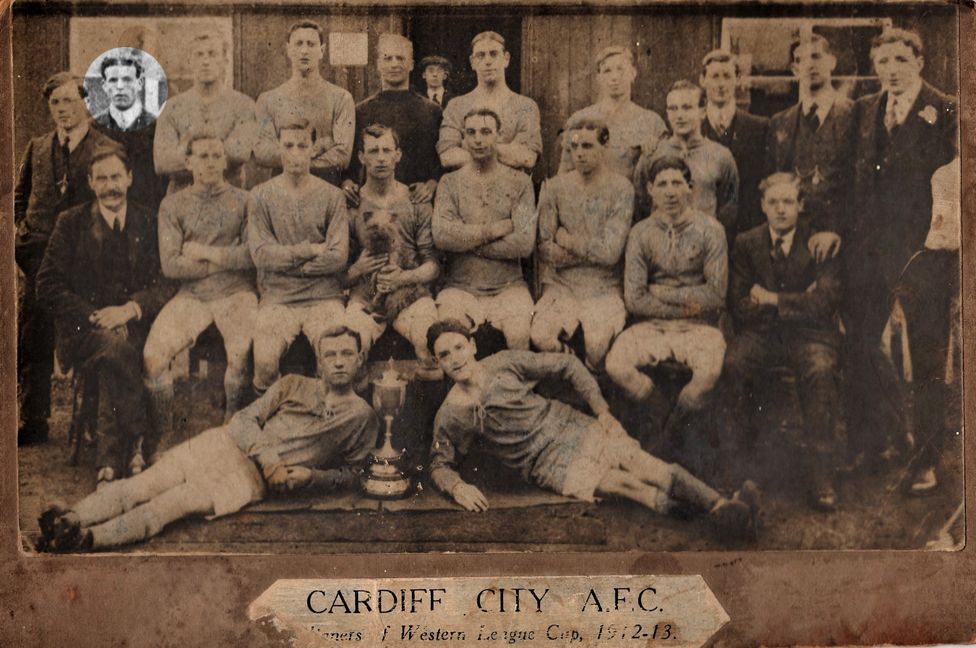 Tom Witts was the only Cardiff City player to die in World War One - tragically losing his life just two days before the Armistice was signed.
The full back did not manage to make a first-team appearance, but turned out for the club's reserves before football was curtailed due to the outbreak of war.
And given his name appeared on reserve team sheets alongside the club's future FA Cup-winning captain Fred Keenor, the question will always be: "What if?"
Tom left school in Springwell near Washington, then in County Durham, to become a miner, like his father.
He played football for Wallsend and was among five players in the north east of England picked up by new Cardiff City manager Fred Stewart.
Tom signed in the summer of 1913 aged 19 - with a job at a pit a train ride away in the south Wales valleys, and some extra money at weekends on the field.
Cardiff were in the Southern League second division and into their third season at Ninian Park but Tom would play his football with the reserves who had won the Western Football League in 1914, losing only once.
Tom lived in Riverside in what is now Ninian Park Road and met local girl Beatrice Muir.
Shortly after war broke out in 1914, their son James was born and they married a few months later. Their second son Tom was born later in the year.
A team photograph, taken before a match at Southampton, just after war was declared in September 1914, sees Tom in the back row on the left.
Keenor - who would later recover from a leg injury suffered at the Somme - is on the right. Most of Keenor's football at this stage of his career was also in the reserves.
Arthur Fish, also pictured, would eventually join the Royal Tanks Corps.
Fish signed for the club in 1911 - on the same day as Keenor - but his grandson Keith Fruin said the war meant an end to his hopes at Cardiff.
"The secretary advised him, he was in his late 20s by then, that he should get a job instead - and he started as a carpenter at the gas works.
"He played for the team there at football and baseball and won medals. He was a real sportsman and still playing in his 50s."
By the end of the 1914-15 season all football competition was curtailed.
Now a young father-of-two, Tom enlisted as an Army reserve at the end of 1915 before being mobilised with the Royal Engineers' inland water transport section as an excavator in October 1916. His skills as a miner would have come in handy.
It is a little unclear what happened next - as his service record is faint and difficult to decipher - but they appear to show Tom served in France in the spring and summer of 1917 and also spent time in England.
His family also moved to Compton Street in Grangetown, Cardiff - which would, in normal circumstances, have been within earshot of Ninian Park on a Saturday.
As the spring offensive in France began in 1918 to hasten the end of the war, Tom - a lance corporal - transferred to the 15th Battalion of his home regiment, the Durham Light Infantry on 24 April 1918.
After a brief period of leave in the August to see his family, it was back to France. It would be the last time Tom saw Beatrice and the children.
The Durham Light were involved in an attack on the morning of 6 November at La Grande Carriere. They faced heavy machine gun and artillery fire from the enemy. The following day the fighting intensified in an assault on forces near the village of Limont Fontaine.
Capt Arthur Moore Lascelles - who had won a Victorian Cross a year before - was killed, along with a lieutenant and 13 other soldiers. Tom was among the 90 who were wounded.
He was taken the 30 miles (46km) behind the lines to a casualty station at Caudry but died of his wounds on 9 November - just two days before the fighting stopped.
The telegram informing Beatrice of Tom's death - a week after the end of the war - was delivered to their old address in Riverside.
He had died on his son Tom's third birthday and his wife was also now expecting their third child - conceived during his last leave.
A sense of desperation can be detected in a letter she wrote to the Ministry of Pensions a few weeks later.
"Dear Sir. I thought it best and doing the right thing to let you know I am pregnant for my dead husband's third child. He came home from leave on the 5th day of August of this year so that will make it that the child will be born any time after the 5th May 1919. Shall I be allowed for it and would you kindly let me know. Believe me. Your truly, Mrs B A Witts
Ellen Mary Elizabeth Witts was born on 7 May 1919 at the family home.
Unfortunately, a response from the ministry a month later shows she was issued an allowance of just over 25 shillings a week for her - and only two of her children.
You may also be interested in:
Records show Tom's personal items were returned to Beatrice at around this time, including photos, a diary, his wallet, cards, a cigarette case and lighter, a comb, scissors, a purse and thimble.
Tom also left behind a father James, mother Sarah, and younger brother Fred, 23. The family home in Springwell has long since disappeared and is now new housing.
Beatrice remarried, to a local boiler-maker John Evans. They had two more children and the whole family emigrated to Canada in 1927 - the year Cardiff won the FA Cup - to start a new life on a farm.
The Armistice 100 years on
Long read: The forgotten female soldier on the forgotten frontline
Video: War footage brought alive in colour
Interactive: What would you have done between 1914 and 1918?
Related Internet Links
The BBC is not responsible for the content of external sites.