Production of Twin Town follow-up film 'Tin Town' stalls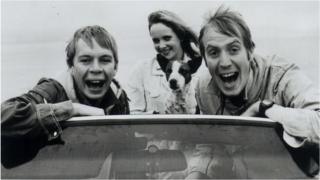 Production has stalled on the follow-up to the cult Welsh film Twin Town.
Director Kevin Allen said a "protracted legal process" meant his new film, Tin Town, could "no longer be termed as a sequel."
He had announced plans to make the new film in January 2017, and some work on the production has already begun.
Writing on the new film's Facebook page, Mr Allen said Tin Town may now be termed a "companion piece" rather than a sequel.
He added that "a lot of extras" would be needed, and that he hoped to resume filming in spring 2019.
The original Twin Town was released in 1997. It was set in Swansea and starred Rhys Ifans and a host of Welsh stars.
The idea for a follow-up story first surfaced nine years ago.