Monthly bin collection: Conwy council warns of tax hike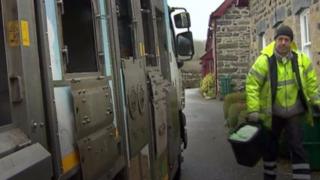 A council that is cutting bin collections to once a month has warned it might be raising council tax by an inflation-busting 11%.
Cash-strapped Conwy council faces a £15m budget shortfall and is also considering a 6.54% cut to all services.
Harsher cuts are possible if schools and social services are protected.
Councillor Sam Rowlands, responsible for finance, said services for the most vulnerable people had to be protected.
He said he was expecting another "gloomy" settlement from the Welsh Government in October, when ministers tell councils how much they will get from central funds for 2019/20.
"We will be faced with a significant gap in our finances," he said, claiming that cuts alone would not be enough to tackle the deficit.
"The majority of our budget goes to schools and social care and we need to ensure we can deliver the best possible services for these groups in the current, challenging financial climate."
Mr Rowlands said a council tax increase could be coming, equivalent to an extra £100 a year for people in a Band D property.
"These are not decisions taken lightly but are essential to protect those people who need the council's services the most," he said.
A range of options will be considered by council members when they meet next Monday.
This year Pembrokeshire increased council tax by 12.5%, the first double digit rise since 2004, but defended it by saying its council tax was still the lowest in Wales.
Conwy's increase for 2018-19 was 4.84%, just below the Welsh Government's informal limit of 5%.