Cardiff head teacher Kevin Thomas accused of groping woman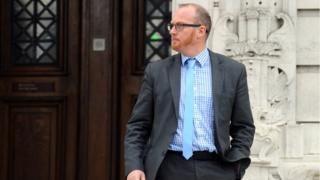 A head teacher showered a woman with suggestive emails and allegedly groped her in his school office, a court heard.
Cardiff primary school head Kevin Thomas is accused of sending a barrage of emails to the married mother - before sexually assaulting her twice.
Newport Crown Court heard in one email Mr Thomas said he could imagine her in "sexy undies working as a bunny girl".
Married father-of-two Mr Thomas, 46, denies two counts of sexual assault.
The court was told the emails, sent from Mr Thomas' personal account, included a suggestive job interview which included questions about whether she "enjoyed play time".
One question read: "If I was a computer, how would you turn me on?"
After the woman made a complaint to Cardiff Council's education authority he emailed her for the last time admitting his emails were "inappropriate" but were "never meant to hurt", the court was told.
Jurors heard how Mr Thomas, from Fairwater, Cardiff, was alleged to have groped his victim when she was in his office by putting his hand between her legs.
Prosecutor Roger Griffiths said: "He touched her between the legs and she did not give consent."
Mr Griffiths said the woman shouted out "What are you doing?" - and Mr Thomas reacted with a "gormless" look saying "I didn't do anything".
The court heard Mr Thomas allegedly assaulted the woman again two months later at a school party.
Mr Thomas, head at Glan-yr-Afon Primary School in Llanrumney, Cardiff, is said to have "rocked his pelvis and clicked his fingers" before pulling the woman towards him.
Mr Griffiths said: "She pushed him back in the chest and screamed at him saying 'Don't ever do that to me again'."
The trial continues.