Cheltenham teenager bailed over Cardiff Nazi graffiti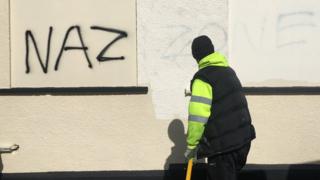 A teenager arrested after far-right graffiti was painted on buildings in Cardiff has been released on bail.
Nazi slogans, swastikas and offensive posters shocked residents when they turned up in Grangetown when they appeared in March 2018.
A 19-year-old was arrested on Thursday, September 20 on suspicion of conspiracy to incite racial hatred and conspiracy to commit arson.
The teenager, from Cheltenham, was released by police on Monday.