Newgale A487: New route plan for storm-ravaged coast road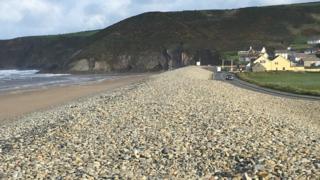 A storm-battered coastal road at risk of being swept away could be replaced by a £40m viaduct under new proposals.
The A487 in Newgale, Pembrokeshire, runs next to a massive shingle bank and could disappear in 20 years because of climate change, the council said.
Ten people were stranded there when a large wave hit their bus during severe storms in 2014.
The council said existing sea defences were being undermined by heavy storms.
It will unveil its preferred choice of route at a public exhibition opening at Victoria Hall, Roch at 13:00 BST on Tuesday.
Three routes are being considered after a public consultation: A new viaduct close to the existing road, or two routes further inland and bypassing the village.
The viaduct could cost £40m and the longer inland routes up to £30m.
"It is our M4 to St Davids if you like," said Jane James who lives on a farm near Llandeloy, four miles inland.
"Visitors come here in droves, in their thousands, during the summer months.
"It's one of the most important roads in Pembrokeshire because it brings those people down to such a beautiful place as St Davids."
Mrs James is hoping for the viaduct option as there would be no spectacular views from the inland routes.
But she added: "Pembrokeshire council can't afford this, money would have to come from Cardiff."
Pembrokeshire County Council will need grant support for further studies of the ground conditions, ecology and environment before a precise route for the road can be identified.
A public inquiry will also be needed for what is a major scheme within the Pembrokeshire National Park.
A Welsh Government spokesman said: "Transport officials will continue to work closely with the authority as they progress with their studies and firm up their proposals for addressing the current problems with the A487.
"Welsh Government is open to consider an application for funding to move forward the development work."