Swansea Bay Tidal Lagoon: Firm behind project in debt deal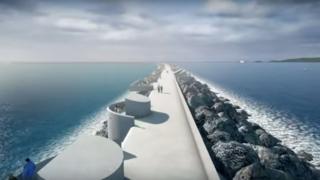 The company behind the Swansea tidal lagoon project has struck an agreement with creditors and shareholders to help pay off its debts.
Tidal Lagoon PLC lost £4.2m in 2016 according to its most recent set of accounts.
The company said the deal meant it could continue work to deliver the Swansea Bay Tidal Lagoon project.
In June, UK ministers refused to agree the subsidy needed for the creation of the world's first tidal power lagoon.
But the company said it wanted to press on without the need for UK government financing.
It said it had agreed a Company Voluntary Arrangement (CVA) which allows it to repay some of its debts over time.
It required the approval of 75% of those owed money. Through the CVA process, the company hopes to be able to settle all creditor claims.
The Welsh Government is among those who backed the project and there is an expectation it will seek to retrieve its funds.
In March, it loaned £1.25m to Tidal Lagoon PLC.
That was on top of another £1.25m loan to a separate but linked business, Tidal Lagoon (Swansea Bay) PLC, in February 2015.
A Welsh Government spokesperson said the UK government had been clear and consistent in its support for the Swansea Bay Tidal Lagoon.
"Sadly, despite the supportive recommendations of the Hendry review of the lagoon, the UK government failed to back the potentially transformational project," they added.
In June, First Minister Carwyn Jones said the money had not been wasted and government funding was normal to develop new technology.
David and Heather Stevens, two of the founders of Admiral, are among those who backed the project to create a horseshoe-shaped sea wall to capture tidal power.
Sanjeev Gupta, the executive chairman of Liberty, which tried to buy Tata Steel's UK operations, also invested in Tidal Lagoon PLC.