Apprenticeship courses 'outdated' warns education body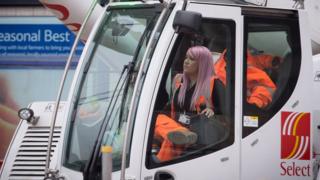 Most providers of higher level apprenticeships do not manage them well and many courses are outdated, the education watchdog has said.
The number of people taking the qualification since its launch in 2011 has continued to rise significantly.
But Estyn found that failings among providers saw workers in Wales having to travel to England to get training.
The Welsh Government welcomed the report and said it would work on implementing its recommendations.
Higher level apprenticeships are equivalent to some university courses and typically take two years to complete alongside the learner's job.
There has been an rise in people taking higher apprenticeships, from 2,470 participants in 2012-13 to 11,130 in 2016-17, which accounted for 24% of all apprenticeships.
But Estyn's report, which was commissioned by the Welsh Government, said many providers did not reflect current practice and the needs of employers.
Without a suitable qualification framework for Welsh Water employees, the company brings in a training provider from England - but only for a specialist course where there is not a Welsh provider available.
The report said some other large companies such as Go Compare, Centrica, Brains Breweries and the BBC had to develop their own apprenticeships because their training needs were not offered elsewhere.
Most people taking higher apprenticeships gained "valuable new skills", according to Estyn, with many becoming "more effective members of staff".
But it said that managers in the majority of providers had "not had sufficient impact in securing improvement in success rates".
Although completion rates have improved, Estyn said last year's figure - 77% - was below that of lower level apprenticeships, and that the rates "vary too much" between different providers.
Meilyr Rowlands, Estyn's chief inspector, said: "Higher level apprenticeships are an ideal way to recognise people's skills in the workplace and for them to gain a formal qualification while still earning.
"The challenge now is to bring completion rates up to the level of other apprenticeships and to increase take-up in priority skill areas such as information technology and engineering."
The Welsh Government, which aims to create 100,000 apprenticeships by 2021, said: "While the majority of the recommendations are directed to work-based learning providers, we agree with them and will work with providers to develop robust higher apprenticeship delivery plans for the future.
"Our plan is not just about meeting targets, but ensuring that the right opportunities are being created in the right areas and at the right levels so that individuals, businesses and the economy can thrive."