National Theatre Wales: 40 writers urge radical changes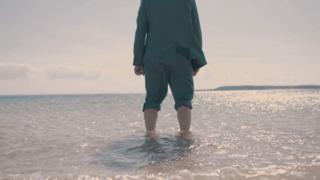 Forty writers have called for radical changes at National Theatre Wales (NTW), accusing it of "undermining" Welsh artists.
In a letter to NTW, they say it is not supporting Welsh writers and is a "roadblock" to success.
Signatories include the writers Gary Owen, Caryl Lewis and Kath Chandler.
NTW said "whilst much of the letter's content was factually incorrect our door is and always has been open to artists".
In the letter sent to NTW chair Clive Jones, the writers state that "with extreme sadness" they were sharing their "discontent."
It continues: "The direction of NTW, coupled with a lack of scrutiny, transparency and openness has led to a worrying internal culture which, despite the organisation's name, seems to take pride in ridding itself of a theatrical identity and even its nationality."
The letter's signatories take aim at the number of productions staged by NTW, saying their fears about a "low theatrical production rate since the departure of (founding artistic director) John McGrath are an open secret," claiming it has publicly confirmed only two productions for the remainder of 2018 and 2019.
National Theatre Wales - some highlights over nine years
There is no permanent base for the theatre's productions - instead they are taken around Wales into different settings ranging from Army ranges to forests.
2010: The Persians on Ministry of Defence land in the Brecon Beacons, a version of a Greek tragedy, written by Kaite O'Reilly
2011: The Passion across a weekend in Port Talbot, involving hundreds of local people; starring Michael Sheen, written by Owen Sheers
2012: Coriolan/Us in St Athan aircraft hangar. Commissioned for the World Shakespeare Festival.
2013: Praxis Makes Perfect, conceived and performed by Gruff Rhys and Boom Bip of Neon Neon, with playwright Tim Price.
2014: Mametz, performed in a Monmouthshire woodland and farm, inspired by World War One poets' experience of battle, written by Owen Sheers.
2015: Crouch, Touch, Pause, Engage - ex-rugby star Gareth Thomas's story, written by Max Stafford-Clark.
2016: Roald Dahl's City of the Unexpected, a Cardiff-wide celebration of the man, his characters and his stories.
2017: We're Still Here, performed in a disused works, the story of the Port Talbot steel crisis, written by Rachel Trezise.
2018: Tide Whisperer, set in Tenby and off shore, telling the story of the migrant crisis, written by Louise Wallwein
In its calls for reform, the letter asks that future productions have "a Welsh or Wales-based artist as primary artist", and that non-Welsh artists and companies should be "world-class" and "engaged only to support a Welsh or Wales-based artist".
The writers use the letter to criticise a recent NTW production called English, which the writers say did not address the relationship between English and Welsh languages in Wales and had a non-Welsh director.
NTW had described English as an "exuberant A to Z of language and identity - made in Wales, but with a global perspective".
But the writers say the production was misguided and "felt like a final straw... which triggered a widespread discussion behind closed doors."
Playwright Gary Owen, who signed the letter, told BBC Wales: "In the last few years NTW has moved more and more to commissioning theatres, theatre companies and artists from outside Wales to come and make work here, and very often that results in them not connecting with local communities, and not exploring the history of Wales and the Welsh experience.
"Time and again National Theatre Wales don't support our artists. They are bringing people in to tell stories about us, and going wrong, as they did with 'English'.
"It does undermine Welsh artists and Welsh theatre by choosing not to work with Welsh artists. And yet to make a living as an artist you have to be successful internationally, and that's what we all do. We are good enough for the rest of the world, it just seems we are not good enough for our own theatre."
Arts Council of Wales, which is NTW's main funding source, providing around £1.5m a year, said it was aware of the letter.
A spokesperson said: "We respect those views and welcome a debate. We are aware that since its creation, National Theatre Wales has existed to challenge everyday notions of what theatre could, and should be, in the 21st Century and has done this boldly and imaginatively."
It said it was sure that NTW would "respond confidently" to the letter and would want to engage in a debate about its future plans.
NTW added: "Our artistic director had already made plans to meet many of the letter's signatories in November, but if they would prefer to meet sooner, we are more than happy to do so."