Llanwrtyd Wells 'scare' bear statue could be re-erected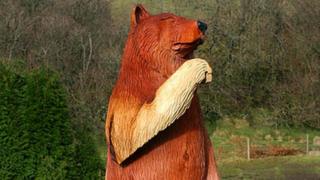 A wooden grizzly bear blamed for causing a crash after a driver thought it was real could become a landmark in a town again.
The Welsh Government ordered the 10ft-high statue be removed from the A483 just outside Llanwrtyd Wells, Powys, in June, after calling it a hazard.
Despite a campaign to save the bear, it has been lying at the side of the road with its back to traffic ever since.
The town council now hopes to re-erect it as a landmark.
Carved from a tree trunk, the bear had marked the entrance to the now-closed Cambrian Woollen Mill for more than 15 years.
But it was claimed it caused a crash when a driver thought it was real and swerved and so the Welsh Government set a deadline for its removal.
Councillors originally treated the removal order as a joke as the town also has a huge sculpture of a red kite in the centre.
Finally the Welsh Government reached an agreement with the owner to move the bear to where it could still be seen but not be a hazard, but after three months it has not been re-erected.
Town councillor Peter James is annoyed the bear was moved after a single complaint after so many years and says the community want it back.
"It's quite a friendly looking bear, waving. Children have even dressed the bear up in past history," he said.
"I don't understand why the lady driving thought the bear was going to attack her car.
"If you go the length of the A483, Builth Wells have a full size ball at the side of the road, we've got a statue of a red kite in the centre of town with a wingspan of roughly 30 foot [and] Llandovery has the statue of the warrior."
Councillors are expected to discuss a plan to move it to Dolwen Field on the edge of the town in time for a Picnic in the Park fundraising event planned there for the end of the month.