Emmy Awards 2018: Matthew Rhys surprises fans with accent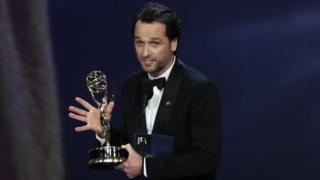 Welsh actor Matthew Rhys has won an Emmy for his performance in the long-running series The Americans.
But when the 43-year-old Cardiff-born star took to the stage in Los Angeles on Monday night to accept his award, his speech came as something of a surprise to his legions of fans.
"His accent! I had no idea! #LoveIt #Welsh" said one Twitter fan.
Not everyone got it right. "I didn't realise after all this time... that #MatthewRhys was SCOTTISH."
The hashtag #MatthewRhys began trending on Twitter following his win.
Many followers expressed surprise at hearing the Welshman's native tones, and admiration for his mastery of the American accent.
One commented: "Holy accent. He should win awards just for playing Americans so well!"
Rhys, who played the role of KGB deep-cover agent Philip Jennings from 2013 to 2018, won best leading actor in a drama series.
His on-screen wife and real-life partner, Keri Russell, was also nominated for her role in the show but did not win.
Rhys paid tribute to her during his acceptance speech, and also referenced an earlier on-stage proposal by a director.
He gave thanks "to the woman who truly got me this award, who just stands in front of me every day and just puts up with me".
He told the audience: "She said, 'if you propose to me I will punch you clean in the mouth'."
Rhys's sister Rachel Evans, a television series producer, called the award "great news".
"He's been the bridesmaid but never the bride these past three years. We're so proud of him. It's a great achievement," she said.
"He's had a lot of investment in the series over the last six years. He's really believed in it."
She woke up just before the award was announced in time to watch social media explode in reaction to the news.
"I texted Matthew at about 6am [UK time] and he said he was drinking warm beer and eating cold pizza," she added.
Rhys was accompanied to the awards by his cousin Elain Edwards, who works as his make-up artist and hair stylist.
She told BBC Wales: "He flew in by private jet, and I was waiting for him. I prepared him before the ceremony.
"We are thrilled that he won, because he's been nominated before... it's nice that he's been recognised."
"He was telling me beforehand how nervous he was and that he wanted to win, but was a bit scared regarding his speech if his name was announced."