Cervical cancer smear tests in Wales look for HPV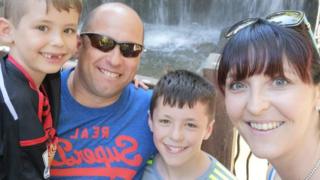 A mother-of-two is urging women to take part in routine cervical cancer screening tests after her results prompted potentially life-saving treatment
Rhiannon Dalton, 36, from Clydach, near Swansea, said she was proof testing "absolutely can and does save lives".
Her call comes as a new type of cervical screening is rolled out in Wales which routinely looks for the virus which causes most cervical cancers.
Mrs Dalton did not show any symptoms as the cancer was caught very early.
About 160 women are diagnosed with cervical cancer in Wales every year and it is most common in women under 35, according to Public Health Wales (PHW).
"I could be telling a very different story now if it wasn't for my access to the cervical screening programme," said Mrs Dalton.
Cervical screening tests have previously looked for cell changes on the cervix which may develop into cervical cancer.
But the new test will also look for the presence of high-risk strains of the human papilloma virus (HPV) which cause 99.8% of cervical cancers, said PHW.
Whilst the presence of the virus does not affect everyone, the test has proved to be a more reliable way to help prevent women from developing cervical cancer, it said.
"We know that if you don't have it, you have a very, very low risk of developing cervical cancer," said Louise Dunk from PHW.
"But if you do have it you have a slightly increased risk of developing it."
She said Wales was the first UK nation to fully adopt HPV testing, coordinated by Cervical Screening Wales.
The smear test process will not change.
Mrs Dalton said: "Yes, it's not the most comfortable few minutes of your life, but it absolutely can and does save lives."
She has two sons, Evan, 11, and Aneurin, seven,
She had a hysterectomy in 2014 after cancer cells were found following a biopsy as a result of the smear test's findings.
"I already had two beautiful boys so the decision was made," she said.
"Whilst I'm still having appointments with my consultant, I am all clear of cancer. It's a fantastic outcome for me."