Wrexham burns survivor poses at London Fashion Week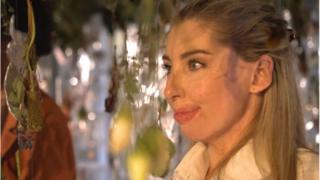 A woman who was given a one in 1,000 chance of survival after being badly burned in a coach crash has posed at London Fashion Week.
Catrin Pugh was part of the Portrait Positive show, featuring women with facial disfigurements and conditions.
She was left with 96% burns and had to undergo more than 200 operations after the crash in the French Alps in 2013.
Miss Pugh, 24 and from Wrexham, told BBC Radio Wales diversity in fashion was greatly needed.
"You don't often see people with scars and birthmarks, and any kind of facial difference or bodily difference represented," she said.
The models were photographed by Rankin, and wore clothes designed by Steven Tai as part of a campaign created with charity Changing Faces.
Miss Pugh was among more than 50 passengers on the coach that crashed as it travelled from the ski resort of Serre Chevalier, killing the 63-year-old driver.
She previously told how she could remember seeing "everything going on fire" and then lying on the roadside "screaming in pain".
"The next thing I remember is waking in the burns unit at Whiston three months later," she said.
After also spending three months in a coma as a result of the crash, she now encourages others to celebrate their differences.
"Every single person is different, and you can find beauty in everybody," she said.
"Whether that is that you have scars all over your body like me, or a mole on your face that you maybe don't think is within those constraints of what perfect is - you are beautiful."
Despite her positivity, Miss Pugh says there were times when she has struggled to carry on.
"There were days when I didn't want to get up I didn't want to do anything, but you have to. There's not something to explain it you just have to get through it."
She adds that she does sometimes still grapples with her appearance, but knows how far she has come: "I sometimes look at myself and just think, 'Why me?'
"I know what I looked like when I was 19 compared to now, and the scars... they don't look the same. I know what that smooth, perfect - or implied perfect - skin is supposed to look like, and I don't look like that anymore.
"So it can be difficult, but I do say I'm stronger, I'm a happier as person, which means I do look at myself and just think it proves how far I've come, how hard I've worked and it shows how strong I am."
For support, contact Changing Faces here.