Electric car-backing Welsh Government uses diesel vehicles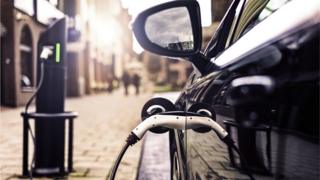 Not a single electric or hybrid car has been owned or leased by the Welsh Government in the last five years, despite policies promoting their use.
Ministers have put £2m into developing electric car charge points and hope to slash gas emissions by 2020.
However, all 72 vehicles it owned last year - including 12 ministerial cars - used diesel, with critics saying it should be setting an example.
The Welsh Government said it would add an electric vehicle to its fleet.
It said it had also reduced its average vehicle emissions by 22% in the last five years.
Melanie Shufflebotham, co-founder of electric car charge point website Zap Map, said it was the responsibility of any government to "set standards".
"People need to see people out and about driving these cars and I think the government is absolutely somewhere where people should be starting to drive electric cars and showing by example," she added.
In 2015, an expert report on how to promote the use of low-carbon vehicles (LCVs), commissioned by the Welsh Government, recommended the authority switched any of its fleet vehicles that needed replacing with LCVs, where health and safety allowed.
The Welsh Government's wider progress on creating a larger network of electric car charge points - including rapid charging points - has previously been criticised, with some saying earlier this year that it was "lagging behind".
And in May, the assembly's climate change committee said Wales was expected to miss its own target for cutting greenhouse gas emissions by 2020.
The latest figures, which come via a BBC Wales Freedom of Information request, show the Welsh Government's fleet included 21 marine and fisheries vehicles, mostly made up of 4x4s, as well as 15 4x4s capable of clearing carriageways, used by north and south Wales traffic officers.
There are also 22 winter transport maintenance vehicles, including gritters and snow-blowers, 12 ministerial cars and three pool cars - all of which use diesel.
The Welsh Government's overall fleet has grown from 59 to 72 vehicles since 2014/15.
In 2017, the UK government announced that sales of all new diesel and petrol cars and vans would be banned by 2040.
Plaid Cymru AM Rhun ap Iorwerth, who has previously called for an increase in electric car charge points in Wales, said the time to change people's behaviour was now.
He added: "Now is the time for Welsh Government to be showing this is the future and we're going to try and stay ahead of the curve. They're just not doing it."
He said there was still a "fear" among some people about the limitations of electric cars but manufacturers had addressed a lot of the problems, particularly around the vehicles' range.
A Welsh Government spokesman said: "Over the past five years, we have reduced our average emissions per vehicle by 22% and are committed to reducing this further.
"We continue to review all alternative and emerging technologies and test them against their environmental impact and value for money for the taxpayer, which is why we will be adding an electric vehicle to our fleet."