UK Steel: why a 'no-deal' Brexit leaves us vulnerable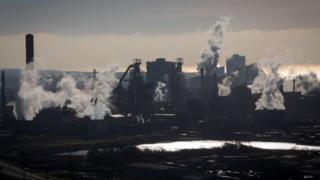 Steel companies and unions are warning the industry will be badly affected by a "no deal" Brexit.
The EU has introduced a series of tariffs to prevent steel "dumping" from China, Russia and other countries.
The employers' organisation, UK Steel, said a new regime for policing this would be unlikely to be fully in place by March when the UK leaves the EU, leaving British steel vulnerable.
The UK government said the industry would have "appropriate protections".
Recovery
Around 8,000 people are directly employed in the Welsh steel industry, including at Tata on Deeside and more than 4,000 in Port Talbot - which is the largest steelworks in the UK.
UK Steel has told the UK government that steel enjoys more EU safeguarding measures than any other industry, following a crisis in the industry that saw prices plummet and job losses.
Those measures have seen steel prices increase and greater job security.
UK Steel said any gap in the coverage of these measures as a result of no deal in the Brexit negotiations would "very quickly be taken advantage of by foreign exporters and would undermine the UK steel sector at a critical time in its recovery".
The concerns over a "no deal" Brexit are echoed by the steelworkers union, Community.
"We are very concerned about what Brexit means for our steel industry particularly as it looks increasingly likely we will exit the EU with no deal," said Alasdair McDiarmid, Community's operations director.
"If we leave the customs union we are concerned the UK will have amongst the weakest trade defence systems in the world and our industry will be newly exposed to steel dumping from countries like China."
UK Steel also wants the UK government to adopt all the protection measures put in place by the EU after Brexit but is concerned about whether this is possible either legally and politically.
Trump's tariffs
In June, the US introduced 25% tariffs on EU steel. So far the EU has retaliated with tariffs on US goods, including bourbon whiskey, and by the end of the year the EU will have a full set of safeguards in place.
There was also concern that the EU might suffer "trade diversion" - where steel previously sold into the US would be targeted at EU markets.
Last month UK steel said the immediate impact of US tariffs did not appear so far to have been as damaging on UK producers as at first feared. However it said this could change as US producers and manufacturers adjust.
Trade deals
UK Steel is also concerned that the UK government may not be as strong in imposing tariffs if it is trying to negotiate trade deals with China and the USA.
"Perhaps we wouldn't be as robust as the European Union... the US has been in defending industries through tariffs, through trade defence measures. If the primary aim of the government is to get free trade agreements, that is a very real concern," said Richard Warren, head of policy at UK Steel.
There are concerns in the industry that in the event of a "no deal" Brexit, the UK industry itself will be outside of EU protection and will have to compete with the rest of the world to fill the EU's annual steel quota.
Car industry
Under a "no deal" Brexit there would not be any duties placed on steel products, but there is concern that the car industry, which buys steel, would be affected.
Steel produced in Wales is used in UK car production including at Nissan in Sunderland and Vauxhall at Ellesmere Port.
Tariffs of 10% could be put on cars, potentially making vehicles produced in the UK more expensive abroad and affecting sales, with a knock-on effect on the suppliers of steel.
The UK government said it was committed to maintain existing EU trade remedy measures that matter to the UK.
"Trade remedies are an essential part of a balanced trade policy, providing appropriate protections to UK industry that suffers harm as a result of unfair trading practices, such as dumping or subsidies, or from unforeseen surges in imports," a spokesperson said.
"That is why the government is establishing the Trade Remedies Authority to investigate trade remedy cases and make impartial recommendations to ministers.
"In terms of countermeasures, it is too early to say if the UK will continue to apply current countermeasures once we leave the EU.
"For now, we will continue to work closely with the EU and the US to find a permanent resolution to US tariffs and defend the rules-based international trading system."