Student with cerebral palsy Jade Owen helped by anonymous donor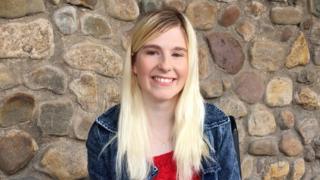 A 20-year-old woman with cerebral palsy is finding her feet after an anonymous donor helped fund her bid for spinal surgery in America.
Jade Owen has spent years trying to raise funds for treatment, and received just over £37,000 towards her cause earlier this year.
Jade, who lives in Bridgend, is now able to walk with assistance.
She said: "I would like to say a massive thank you for such an amazing and generous donation.
"Without the person who donated I wouldn't have been able to get where I am now, and I want to thank them for making my wish to walk come true."
While in America, Jade underwent a selective dorsal rhizotomy (SDR) - aimed at reducing spasticity - and two other operations for her cerebral palsy.
The Bridgend College student explained that the identity of the person was still a mystery: "The donation was just over £37,000... I have no idea who it was from!"
Jade, who has needed to use a wheelchair since she was 11 years old, said she was not able to have the treatment on the NHS because of her age and the severity of her condition.
Despite her progress after the treatment in America, Jade believes her prognosis may have been better if she had been able to have the surgery earlier.
She said: "I've been told that if I'd had it when I was younger I would be a lot more independent - like walking by now, there wouldn't be the left over spasticity there.
"It's kind of hard because people go for this operation to get rid of the spasticity and not have any, and having some still there… it's like if I had it when I was younger then it'd be a lot more easy."
However, Jade is delighted with the changes she has seen since the surgery, and explains that even being able to sit with less help is a huge achievement.
"Being able to sit without falling over is amazing. I used to sit with loads of pillows around me and now there's just one - that's a massive step for me," she added.
The Welsh Government said the NHS in Wales and in England commissioned SDR treatment as part of a trial to evaluate its effectiveness and the full findings were expected by the end of this year.
"This evidence will be used to consider whether the procedure should be routinely available on the NHS in Wales," a spokesman said,
"Where treatments such as SDR are not routinely available within NHS Wales, a clinician may submit a request for the treatment to be funded to an Individual Patient Funding Request (IPFR) panel in the appropriate health board."
The Welsh Health Specialised Services Committee (WHSSC) said it is committed to "the provision of cost-effective new treatments fairly available to all" and will undertake an interim review next month
"Funding of £200,000 was committed by Welsh Government for paediatric patients to trial SDR treatment," said a spokesperson.
"A group of patients was assessed, provided with surgery and received post-operative physiotherapy in line with NHS England's commissioning for evaluation process."