EDF statement on nuclear plant mud dumping 'not accurate'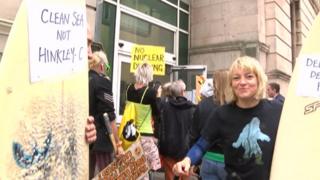 Developers must clarify whether dumping mud from near a nuclear plant is covered by an environmental impact assessment (EIA), a judge has said.
Judge Milwyn Jarman said EDF's evidence was "not accurate on a very important point" on whether material dredged from the seabed near Hinkley Point C site in Somerset was included in the EIA.
Campaigners want an injunction to halt the dumping that began last week.
A High Court hearing in Cardiff has been adjourned for seven days.
About 300,000 tonnes is to be dredged from the seabed near the building site and deposited in the Cardiff Grounds, a mile off the coast of the Welsh capital.
Energy firm EDF, which is behind the £19.6bn plan to build the nuclear plant, argued the mud dump was addressed in a main environment statement that formed part of the main planning application for Hinkley Point C and was approved by the UK Government.
But the judge said that was not clear from a witness statement the company had submitted to court.
The firm's barrister James McClelland accepted the wording could have been made clearer.
Legal action is being brought by the Campaign Against Hinkley Mud Dumping, which includes Super Furry Animals keyboard player Cian Ciaran.
Campaigners asked for a temporary injunction to be imposed until the next hearing, but the request was turned down.
Neil McEvoy AM said campaigners were planning to organise a blockade in an effort to halt the dumping.
He said: "Unfortunately the judge adjourned for seven days without an interim injunction.
"So what we're going to do now is ask people with any available boats to blockade the dumping ground - which can be done lawfully."
A barge made its first trip to dump mud last Monday evening despite hundreds of people protesting against the plan.