Cancer survivor denied scan after finding abnormal cells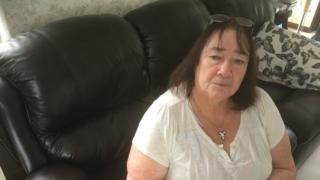 A woman who previously had cancer and found a cluster of abnormal cells during a check-up has been refused a scan to investigate it further.
Nicola Pinhorn, 70, from Llanbedrog, Gwynedd, said she had not been told why the request for a positron emission tomography (PET) scan was turned down.
North Wales Community Health Council (NWCHC) said people in other areas had better access to PET scans.
Betsi Cadwaladr University Health Board said its service met Welsh guidelines.
PET scans, which produce a 3D image of the inside of the body, are only available two days a week in the north Wales health board's area.
Geoff Ryall Harvey, chief officer of the NWCHC, said the NHS needed to review the criteria used to assess patients and provide more access to PET scans.
"I believe that they [the health board] are negotiating for a third day of these sessions. But there is a problem with these hi-tech scans in north Wales and I'd like to see more generally - clearly two days a week is not enough."
'Living on a knife edge'
Ms Pinhorn, who had been treated for bowel cancer in 2015, had a request for a scan by her consultant turned down.
She said: "It's like living on a knife edge. I know that I've got a tumour of some description growing inside, but I don't know whether it's cancer.
"Once you've had cancer, there's always that fear that it will come back."
Another bowel cancer patient, 64-year-old Shaun Redmond from Holyhead, was also turned down for a scan because he did not fit the criteria.
When he had it done privately, it showed his cancer had spread.
A health board spokesman declined to comment specifically on Ms Pinhorn's case because of patient confidentiality.
However, he said: "PET scans are commissioned by Welsh Health Specialised Services Committee (WHSSC) on behalf of all health boards in Wales.
"Provision of service is determined by WHSSC based on existing clinical demand.
"PET scan provision in North Wales is provided by one of two PET scanners available to Welsh NHS patients."