Five hurt after taxi and 4x4 ambulance crash near Milton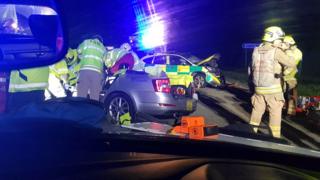 A taxi driver was left in a critical condition and his four passengers were seriously hurt after a crash with a 4x4 ambulance which was on an 999 call.
The crash happened at about 00:25 BST on the junction of Upper Nash and the A477 between Milton and Pemboke Dock, Pembrokeshire.
All five who were hurt, including two teenagers, were in the Skoda Octavia taxi and have been taken to hospital.
The ambulance had no patients on board and its driver was slightly hurt.
Dyfed-Powys Police said both vehicles were travelling in the same direction from Pembroke Dock towards Milton.
No arrests have been made.
Pembrokeshire councillor Paul Dowson, was first on the scene, arriving moments after the crash.
"It looked more or less like a head-on crash," he said.
"I couldn't believe there was anyone still alive. The front of the ambulance was smashed up.
"The ambulance driver crawled out of his car and tried to see to the driver of the taxi. He told me to get some gloves from the car.
"We had to climb through the back window of the taxi and I was hanging out of the back."
Mr Dowson, who had just finished working as a door supervisor at a wedding, said he and the ambulance driver attempted to help the injured passengers until the emergency services arrived.
He said the taxi driver had to be cut free from the wreckage and was taken to hospital as were the other passengers of the car.