Concern over Newtown flats with no car parking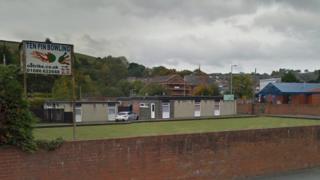 A development of flats with no car park has raised concerns residents will use spaces in the town meant for visitors.
No provision has been made for parking for the 26 one-bedroom apartments in the centre of Newtown, Powys.
Councillor Les George said: "You could have 52 cars here, is this going to take any parking away from visitors in Newtown?"
But highways officer Dale Boyington called it a "win-win" that would not deprive the town of parking spaces.
Anybody with a car would be expected to park elsewhere or at nearby Back Lane Car Park, which is a £3.40-a-day pay and display.
Mr Boyington said: "This is one of the most sustainable developments in Powys; if anyone does park it will bring in additional revenue to us.
"The car park is rarely at 100% full. It's unlikely to take away any capacity. For us it's a win-win."
Powys council bought the former bowling green site on Back Lane and is set to go ahead with the development after planning permission was granted.
"Given the close proximity of the site to local amenities in the town centre, as well as public transport options, including the bus station and railway station, it is deemed that the requirement for a car would be greatly reduced," Mr Boyington added.