Newport death crash driver caught by DNA on airbag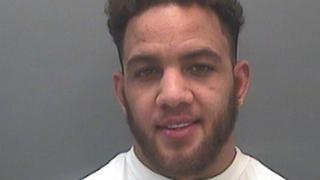 A driver who fled the scene of a fatal car crash has been jailed after his DNA was found on an airbag.
Blane Nunes, 26, crashed his VW Golf into the back of a Skoda Fabia on 25 April, causing it to smash into a parked car on Caerleon Road, Newport.
Vladimir Cech, 38, a passenger in the Skoda, died five days later from a traumatic brain injury.
Nunes, of Newport, admitted causing death by dangerous driving and was jailed for four years and eight months.
Newport Crown Court heard he was speeding at 85mph (135km/h) in a 30mph (50km/h) speed limit just before the fatal crash.
Nunes left the scene and tried to distance himself from the crime, but the CPS and Gwent Police found DNA on the airbag and, combined with CCTV and mobile phone footage, proved he was driving.
Mr Cech's 17-year-old daughter, Jane, described her father as a "hero", and said she missed his "crazy sense of humour" and was "hurt, upset, sad and angry all at the same time".
Disgraceful driving
She told the court she saw her father in the car following the crash, which happened outside the family's home.
"I heard a terrible noise and went out to see dad in a horrible way. Our lives will never be the same again," she said.
Judge Daniel Williams described Nunes' driving as "disgraceful", saying he was "showing off in front of his female passenger".
He suggested the family would feel the sentence was inadequate, adding: "I would feel the same if I was them.
"Seventeen-year-old Jane and 15-year-old Maya have been left without their funny, compassionate and hard-working father."
Nunes also admitted driving while disqualified and driving without insurance.
He was banned from driving for five years and must take an extended driving test.