Welsh Water apologises after pollution kills fish near Wrexham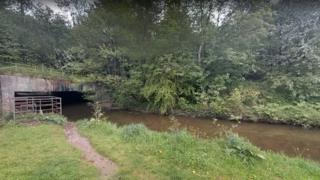 Welsh Water has apologised after fish were killed when it accidentally polluted a river.
A leak in a storm water tank led to a "major" incident on a stretch of the River Clywedog, near Wrexham, last week.
A 9km (5.5 mile) stretch of the river was affected following the leak at Five Fords wastewater treatment works.
A Welsh Water spokesman said the firm was "extremely sorry" for the "pollution incident".
Natural Resources said it was aware of the incident and was continuing to investigate.
Thousands of fish are thought to have died, including brown trouts, lampreys and minnows.
The Welsh Water spokesman said: "While carrying out essential maintenance work on our outfall chamber at our Five Fords wastewater treatment works in Wrexham last week, a pollution incident occurred following a temporary release from one of our storm water tanks into the River Clywedog.
"This caused conditions in the river that led to fish dying and we are extremely sorry for this.
"We are currently working closely with Natural Resources Wales to fully investigate the incident.
"We are also carrying out a full internal investigation and exploring options to make good the damage done."