Tredegar Park: Newport residents set to make a splash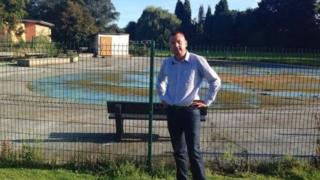 A splash park is set to open at Newport's Tredegar Park ready for the summer of 2019.
Locals have lobbied the city council since the old splash park closed in 2014 due to mechanical problems.
Michael Enea, who campaigned for a new facility, said research suggested about 10,000 people would use it over a six-month period.
Council officials said they were developing plans and an application would be submitted imminently.
More than 1,600 people have signed a petition calling for the splash park to be reinstated.
Mr Enea said water facilities were growing in popularity. He said the National Lido of Wales in Pontypridd, which attracted its 200,000th visitor in June after opening in 2015, was evidence of this.
Blaenau Gwent council is also set to develop a splash park at Parc Bryn Bach, Tredegar.
Mr Enea said a splash park in Weston-Super-Mare had attracted 21,000 visitors in 2017 and made in excess of £22,000 profit.
"Obviously such a park [in Newport] would not attract 21,432 like Weston Super-Mare which is a seaside town, but I do think it is feasible to suggest 10,000 paying visitors is realistic," he said.