Clydach head teacher Rhian DeSouza sentenced for indecent images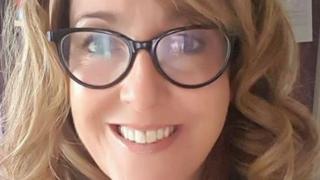 A primary school head teacher who made indecent photographs of a child has been given a two-year community order.
Rhian DeSouza, 43, who had admitted two charges, was ordered to do 25 days rehabilitation training and 200 hours unpaid work at Swansea Crown Court.
She must also sign the sex offenders register for five years and was issued with a sexual harm prevention order.
DeSouza has been suspended from her job at Ysgol Gymraeg Gellionnen in Clydach, near Swansea.
The school's governors have written to parents assuring them the case did not relate to any current or former pupils, or at any school De Souza had taught at.
The subject of the photographs was a 16-year-old girl, who De Souza had known since she was aged 13, but was not a pupil at her school.
The court heard after the girl turned 16 they had begun a consensual sexual relationship.
However, in June the girl's mother found out about the relationship and reported it to the police.
The court heard the girl had taken two intimate photographs of herself and sent them to De Souza, who later erased them from her phone.
Judge Paul Thomas said it was an "anomaly of the law" that De Souza could have a lawful sexual relationship with the girl and not have intimate photographs of her, but he added she should have known having them was illegal.
In a joint statement, the school and Swansea council said: "As soon as we were made aware of the investigation by police she was suspended and remains so.
"An acting head teacher is in place and support is being given to ensure there is no impact on the day to day running of the school."