Lehman anniversary: Wages in Wales not growing as fast as rest of UK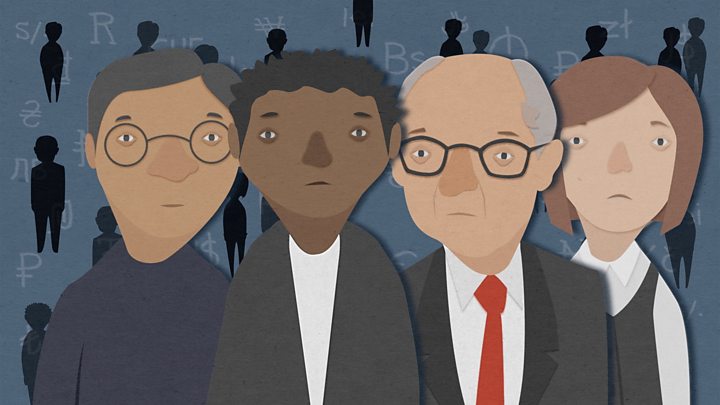 Living standards in Wales are struggling to return to 2008 levels, 10 years on from the financial crisis, a business leader has said.
The typical household income has grown by just 1.1% since 2008-09, the smallest rise in UK wages outside London and the south east.
House price growth has also been slow, growing by 21% - the second lowest increase in the country.
Workers told the BBC the crash has hit "every community".
A decade ago this week, the US investment bank Lehman Brothers collapsed, sending shockwaves through the global financial system.
Ian Price, director of business association CBI Wales, said Wales was not hit in the same way as London when the crisis struck, but has had a hard time returning to the growth it experienced before September 2008.
"It obviously had an impact but because we haven't got a large financial sector it probably didn't have the impact in Wales as it did in London or the south east," he said.
Business growth "slowed down for two or three years" but Mr Price said it was in the "best place" since the crash, despite not returning to pre-crisis levels.
It is a different story for workers.
"Salaries haven't grown at the same level they grew pre-2008. Salary growth as a consequence has stagnated," Mr Price said.
The average household income in Wales is £20,900, just 1.1% higher than before the crisis.
So what impact has this had on those in work and out of work?
Len Wilding, 60, worked in the Hoover factory in Pentrebach, Merthyr Tydfil, which closed in 2009. He is now a bus driver, but has not seen his wages change significantly in the last decade.
"[I was] taking home a decent wage of say £200 to £300 a week at the time. Although you were getting a redundancy that wouldn't last that long," he said.
"You either sink or swim, hopefully I swam. I've still got my head above water anyway.
"I don't think [Merthyr Tydfil] has ever has recovered. There's no production. Nothing's being made in this town. 400 jobs going like that was a big blow to the town and I don't think it's recovered.
"It's like closing the coal mines. It hits every community."
However, it is not all doom and gloom.
Guy Lawrence, 59, from Llantrisant, was one of 200 people made redundant when L'Oreal transferred the majority of its workforce from a factory in Talbot Green, Rhondda Cynon Taff ten years ago.
Despite struggling when he attempted to set up his own photography business, he now works in a successful shoe shop in Cardiff, and says losing his job was a blessing.
"I think it was good because I like to get a fresh look on things. I was bogged down a bit and it does get to me," he said.
"I was never negative about it. I've always found work, I've always been able to adapt to whatever's been put in front of me."
But for those struggling to make an income, the effects of the financial crisis are still proving to be a significant barrier.
Sarah, 36, from Gwynedd, regularly uses food banks and says she has struggled to pay the bills for a number of years.
She said: "It is really bad when you do have to come and ask people for food and for the basic kind of food just to survive and still struggle after having the help as well.
"Some people think you're bumming, you're getting free food, it's just about surviving and having help by having food and still struggling to pay bills it really is very hard.
"It seems to be getting worse, with so many people in the same situation and everyone's getting in debt. I don't see any way it's going to get any better."
What about housing?
The housing market has also struggled to recover.
Average prices have risen by 21% in Wales since 2008, far below the UK average of 32% increase and less than half the total in London, where prices have increased by 50%.
Areas such as Monmouthshire and Cardiff are more in line with the UK average, but prices in Gwynedd and Pembrokeshire are still struggling, increasing only 9% in 10 years.
Lucian Cook, Savill's estate agents head of residential research, said: "Wales was one of the first markets to wobble, even before the Lehman Brothers collapse and it has been one of the slowest markets to show recovery.
"It is a market that tends to perform better later in the cycle, with the ripple of recovery out from London slower to impact Wales.
"As with most regions, however, the average disguises wide variation in the performance of local housing markets. The housing markets of Monmouthshire and Cardiff have very different economic drivers to those of Blaenau Gwent and Gwynedd."
Analysis from Sarah Dickins, BBC Wales economics correspondent
The impact of the banking crisis is still being felt every day in Wales - ten years on.
Wales did not see the many thousands of well-heeled bankers having to clear their desks and find new work but it did see a number of prominent businesses go to the wall.
Many of those loans, that were taken out in a period of optimism and growth, turned sour as interest rates rose . Others went to the wall as shoppers, hit by effects of having housing that they could no longer afford, stopped spending on anything except the essential .
But the most lingering effect, still holding back the economy a decade later, is the fact that wages have hardly recovered.
Economics is about numbers but also, most importantly perhaps, emotion and that can determine how those numbers contribute to optimism to spend or invest or not.
Despite record low interest rates for years many individuals and organisations across Wales are still very cautious about expanding or investing, and that in itself can hold the economy back.