Flint market to trade for final time after 700 years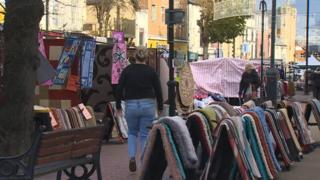 A historic market will run for the final time on Friday as centuries of street trade comes to a permanent end.
The market in Flint has been running for about 700 years, but the council says dwindling trader and customer numbers mean it must close.
A petition to protect the market, which moved to Church Street in 2012, was signed by 200 people, but Flintshire council voted to close it in March.
The decision was "not taken lightly", a council statement said.
The market used to be home to up to 30 stalls every Friday, but the number recently dropped to two or three and was being run at a cost of about £10,000 each year.
When the petition to save it was launched in November, stallholder Steve 'Sweets' Branney said: "We feel it brings people into town on a Friday."