Aberystwyth's Pantycelyn Welsh halls reopening delayed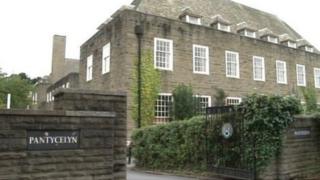 The reopening of Aberystwyth University's Welsh language halls of residence has been delayed by a year because of timetable "pressures".
The outdated Pantycelyn halls were closed in September 2015.
The university decided to redevelop the building as a halls of residence, at a cost of £12m, in the face of protests by students.
It has apologised and said it realised the announcement would be a "disappointment" to would-be residents.
Pantycelyn had been the traditional home for Welsh-speaking students at the university.
Prince Charles spent a term there as a student in 1969.
The university had been looking at other uses for the Grade II-listed building with students being moved to newly built halls instead.
But it ran into a series of protests from students including a rooftop occupation and the threat of hunger strikes.
The university's council finally agreed a redevelopment package backed with a £5m grant from the Welsh Government.
The halls were scheduled to reopen next September with 200 en-suite bedrooms and public spaces for students as well as the community.
The university now says that timescale is "not achievable".
A statement says: "There have been unforeseen pressures on the timetable, including the need to include a comprehensive sprinkler system in the plans."
The first students are now expected to take up residence in September 2020.
Gwerfyl Pierce Jones, chair of the Pantycelyn project board, said it was "extremely disappointed" but it accepted the university was "fully committed to reopening Pantycelyn".
Anna Wyn Jones, president of Aberystwyth's Welsh Students' Union said it was "essential" students were able to move in 2020.
"We will be working with the project board and the university to ensure this happens."