Brecon Beacons SAS deaths: Failings were 'serious and widespread'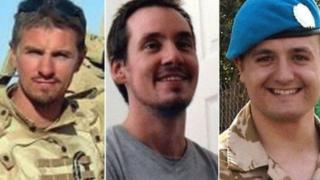 Five years after three SAS reservists died in a selection march, there is still no relevant government guidance relating to heatstroke on endurance events, a court heard.
The men died after a 16-mile (26km) exercise in the Brecon Beacons in July 2013.
Failings on the trek were described as "some of the most significant" a health and safety inspector had seen.
A serving officer and former warrant officer deny negligence.
Identifiable only as 1A - a captain in command of the exercise - and 1B - a warrant officer who has since left the Army - they are appearing before a court martial in Bulford, Wiltshire.
L/Cpl Edward Maher, 31, L/Cpl Craig Roberts, 24, and Cpl James Dunsby, 31, died after the trek during which they carried up to 27kg (4st) on their backs on one of the hottest days of 2013.
They were among the selection field required to cover difficult terrain in eight hours and 45 minutes.
"There were very serious failings, they were widespread failings," health and safety inspector Sarah Baldwin Jones told the court.
"Probably some of the most significant failures I've come across in many years in dealing with the Ministry of Defence.
"There was a complete and utter lack of training on JSP539 [the Ministry of Defence's guidance on heat illness]."
Ms Baldwin Jones carried out a detailed assessment of the incident and concluded: "From my investigation and subsequent investigations I don't think there was any training provided to anyone in the Army."
She said a major issue was the fact the JSP539 document gave guidance that could the be "interpreted by whoever's in control".
"When you get to that level of assumption… there's a risk with that," she added.
"JSP539 does not cover any endurance event, it's not able to give any advice to anyone in command."
She said it only related to exercises that last an hour or less, adding: "I do think there's a wider issue here. The medic who was asked to look at the plan was a junior medic who was not familiar with the area."
Heat illness
Ms Baldwin Jones said there was not enough awareness of JSP539 and guidance on interpreting it.
"That communication is vital because if you have a casualty, that could be heat illness, you should consider stopping the march," she added.
"But if any of the units stopped any of their marches at the first heat illness casualty they'd never get any of their training done."
"This type of environment doesn't allow that."
L/Cpl Roberts from Penrhyn Bay, Conwy county, and L/Cpl Maher, from Winchester, Hampshire, suffered heatstroke and died on the exercise.
Cpl Dunsby, from Trowbridge, Wiltshire, died from multiple organ failure more than two weeks later at Queen Elizabeth Hospital in Birmingham.